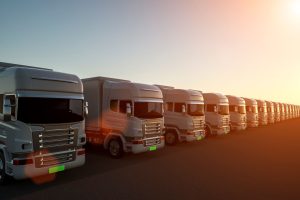 By Lauren Navarro and Tom Cackette
The Advanced Clean Fleets rule is a purchase requirement for medium and heavy-duty fleets to adopt an increasing percentage of zero-emission trucks. It will complement the previously adopted Advanced Clean Trucks regulation requiring manufacturers to sell ZEV trucks. Together the two regulations are the most important means of achieving Gov. Newsom's executive order requiring 100% of heavy-duty truck fleets in the state to be zero-emission, wherever feasible, by 2045.
We need these rules because heavy-duty trucks currently account for 26% of all smog-forming nitrogen oxide emissions in California and about a third of mobile diesel fine particulate matter emissions. They are also major producers of climate change emissions (about 8%) at a time when our planet cannot take any more climate change. Heavy-duty truck emissions are not evenly distributed — they tend to be concentrated in underserved communities, which are often located near warehouses, distribution centers, ports and major roadways.
Replacing these trucks with ZEV options will go a long way to reducing these air pollutants and improving public health. In addition, they will save money; the California Air Resources Board's analysis of its proposed ACF rule estimates a net benefit savings of $47 billion between 2024 and 2050, which includes $20 billion in savings to fleet operators. Adopting Alternative 2, as recommended by many environmentalists, would result in even stronger benefits.
The Advanced Clean Fleets rule explained
Click To Tweet
Structure of the regulation
The proposed ACF rule supplements the sales component of the existing ACT regulation, previously very open-ended, by requiring new trucks sold in California to be 100% ZEV starting in 2040.
The proposed rule consists of three different purchase requirements for fleet operators: 1) for private fleets with 50 or more trucks (including federal fleets and businesses with gross annual revenue of $50 million or more regardless of fleet size); 2) for drayage trucks operating from seaports or railyards and; 3) for state and local government public fleets.
An important nuance is that a state law, SB 1, prevents the California Air Resources Board from requiring an existing diesel truck be removed from a fleet until it is 13 years old and has accumulated over 800K miles, or is over 18 years old. This provision delays how quickly the full transition to ZEV trucks can happen.
Private "high priority" fleets
Starts in January 2024 and applies to heavy-duty trucks and light-duty trucks used in package delivery that operate in California.
Two compliance options:

Option 1: All new vehicles added to a fleet must be ZEV. Older fossil-fuel vehicles are removed from fleet when SB 1 statutory useful life is reached.
Option 2: Fleet composition (% ZEVs in the fleet) in the following table must be met even if it means retiring a fossil-fuel vehicle otherwise exempted by SB 1 (i.e., over 13 years old and > 800K miles, or over 18 years old). Unlike Option 1, this option allows continued purchase of fossil fuel vehicles as long as the fleet composition target is met before the year 100% ZEVs are required.
 ZE Fleet Composition Requirement – Option 2

Drayage trucks
Applies to trucks that carry cargo from California seaports and intermodal railyards.
Common ownership and control requirements apply so shippers become responsible for compliance and individual drayage operators become "part of the shipper or broker's fleet."
Trucks must be registered in CARB's online system to have access to the ports, then:

Beginning in 2024, any new registrants must be ZEVs trucks.
Non-ZEV trucks registered prior to 2024 (legacy vehicles) can continue to operate if they move cargo at the port at least once each year.
However, legacy trucks are removed from the registry, beginning in 2025 if the engine in the truck is over 13 years old and has accumulated more than 800,000 miles, or is over 18 years old.

Beginning in January 2035, all drayage trucks must be ZEV.
State and local government fleets
Applies to government fleets of any size.
Begins January 2024.
Requires that an increasing percentage of new vehicles purchased be ZEV:

2024: 50% of new vehicles purchased must be ZEV.
2027: 100% of new vehicles purchased must be ZEV.
Delayed start to 2027 for low population (rural) agencies.
What's next?
EDF and other organizations are proposing three changes to the CARB staff proposal that would accelerate the transition to ZEVs and increase public health benefits of the regulation.
First, the 100% ZEV sales requirement should be moved up to 2036 instead of 2040. A new report shows this change would generate $2.7 billion in additional health care savings by 2050, cut an additional 24 million metric tons of climate pollution, and put 133,000 ZEV trucks on the road in 2050 (comprising 78% of all trucks). In 2035, the average ZEV truck will cost almost $50,000 less to operate over its lifetime than a combustion engine truck.
Second, the 50 or greater fleet size floor for the in private fleet requirements to apply should be decreased to 10 vehicles for Class 7 and 8 trucks (these are the large tractors that pull separate trailers). These tractors account for only 12% of MHD trucks but emit half of the NOx from all MHD trucks. This change would decrease NOx and PM2.5 emissions by an additional 16% compared to the CARB staff proposal.
Third, in the fleet ZEV composition schedule for private fleets (See Table above) the Class 8 sleeper cabs should be moved up three years to be consistent with the day cabs (row 2 of the table).
CARB has analyzed the combined effect of our three recommended changes and presents the results as Alternative 2 in its staff report, which is available for public comment.  The analysis indicates Alternative 2 results in 59% greater health benefits, 55 to 60% additional NOx, PM2.5 and GHG emission reductions, and even a small increase in the net savings to fleet operators. Adopting Alternative 2 of the ACF rule rather than the staff proposal presents a critical opportunity to more rapidly clean up the air in California and takes a stronger step towards meeting the Governor's climate goals, while decreasing the cost of operation for fleet owners. Our leaders must finalize a stronger rule.
CARB is currently accepting written public comments on the ACF rule until October 17, and will hold a public hearing on October 27 in Sacramento with an opportunity for in-person or remote oral comments.