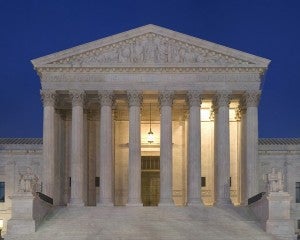 Over the past several months, we've been providing updates on the ongoing litigation surrounding Order 745 – a vital, federal rule on demand response. As a low-cost, environmentally beneficial resource, demand response relies on people and technology, not power plants, to manage stress on the electric grid during periods of peak energy demand. Simply put, demand response pays people to conserve energy when it matters most – a win-win for people and the environment.
But this critical energy management tool has also been subject to an amazing amount of scrutiny (which we've covered here, here, and yes, here, as well). In short, the thorny issue boils down to this: a recent court decision found that the federal agency responsible for regulating demand response didn't have the authority to do so.
When the decision came down, many were shocked. The general assumption had been that this agency (known as the Federal Energy Regulatory Commission or "FERC") certainly was within its rights to issue Order 745, a set of rules for how demand response would function in our nation's energy markets.
And last week, the United States Solicitor General sided with the "general consensus" on Order 745.
How? The Solicitor General's office, on behalf of FERC, has formally asked the Supreme Court of the United States to review the lower court's decision and overturn its ruling. Stating that the lower court invalidated an important rule "for ensuring the efficiency and reliability" of electricity markets, the Solicitor General argued that "the court…seriously misinterpreted" the relevant law and "misapplied basic principles" of how courts should review agency action.
[Tweet "The Solicitor General formally asked SCOTUS to review FERC #demandresponse order. What does it all mean? www.edf.org/cYX "]
What does it all mean?
"Jurisdiction" lies at the heart of this prickly debate – a word only a lawyer could love. Simply put, jurisdiction involves the question of who should be able to create a set of rules relating to an issue – the federal government or state governments. As a rule of thumb, if the issue is one that crosses state lines, the federal government is responsible for creating rules, laws, and regulations; if the issue is entirely within the state, then it's the responsibility of the state. In the Order 745 case, the lower court found that demand response is a state-only issue, and thus FERC – a federal agency – cannot help to create a set of rules for demand response, even if those rules only applied to interstate (i.e., crossing state lines) questions.
Even states disagree with this assessment, and the Solicitor General provided a convincing argument as well, stating that Order 745 "governs only payments made by wholesale power purchasers for demand-response commitments used by wholesale-market operators to set the wholesale price." As you may have guessed, if something is "wholesale" then it is a federal, not state, issue.
So where do we go from here?
The Supreme Court has a monumental task, with over 10,000 cases brought before it every year. Nine justices have little hope of being able to review each one, and thus have discretion to decide whether to take certain types of cases. Typically, the Supreme Court hears 75-80 cases a year, meaning that less than one percent of all appeals are actually reviewed by the Supreme Court.
Long odds, indeed. However, there is reason to believe that chances are better for this case. Because it deals with "jurisdiction" it is a particularly important case, significant for our legal system, as it deals with a question of what the government can and cannot do. Second, the case was brought by the Solicitor General, a move that improves the odds of being accepted and heard by the Supreme Court.
It's unclear at this point whether the Supreme Court will choose to hear the case, and we won't know more until later this year. But the Solicitor General's decision to petition the Supreme Court to hear Order 745 is a move in the right direction. It signals the importance of this case, which will no doubt shape how demand response is valued in our energy markets, and to what extent Americans are able to reap the full benefits of this important resource.