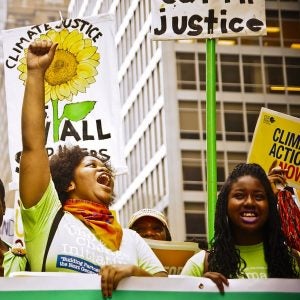 By Keith Gaby, Senior Communications Director – Climate, Health, and Political Affairs
It's been almost a year of fighting President Donald Trump's reckless environmental agenda. For those feeling exhausted by the idea of spending three more years facing these serious threats, it's good to remember that we can win. In fact, in the last few weeks we've scored four significant victories for public health and smart energy policy.
A backwards energy plan is rejected
On January 8, the Federal Energy Regulatory Commission unanimously rejected a plan from Energy Secretary Rick Perry to waste money and pollute the air by protecting coal and nuclear plants from competition. Perry had claimed — without evidence — that his bloated plan was needed to provide energy resilience.
FERC made it clear that the proposal fell far short of unbiased, evidence-driven analysis. It was about politics, rather than resilience.
Indeed, the fact that our grid survived the January "bomb cyclone" shows that we don't need more coal to withstand the most extreme weather event.
Supreme Court rejects challenge to Endangered Species Act
Also last week, the U.S. Supreme Court upheld a ruling supporting protections for the Utah prairie dog, which is listed as threatened under the Endangered Species Act. Petitioners had challenged the powers of Congress to regulate intra-state species.
The high court's dismissal of the case affirms the U.S. Fish and Wildlife Service's authority to extend ESA protections to imperiled species that live entirely within one state. About 70 percent of all species protected under the act fall into that category.
The timing and outcome of this particular case is a noteworthy win for wildlife as a similar case is pending in a district court in Texas, and because the Trump administration and some members of Congress are seeking to undermine the ESA.
A dangerous EPA nominee withdraws
Trump nominated Michael Dourson to oversee the office that determines which chemicals are safe for our kids and families. Problem was, Dourson has a long history of working with the chemical and tobacco industries to minimize the risks of toxic chemicals.
He was likely to set weak standards for protecting human health and to undermine the strong chemical safety law passed in 2016.
A bipartisan outcry from across the country, including from victims of chemicals endorsed by Dourson, forced him to withdraw from consideration by the Senate on December 13, 2017.
New Jersey says no to a nuclear bailout
Public Service Enterprise Group, parent company of the state's largest utility, tried to rush through a bailout for itself in the final days of Gov. Chris Christie's administration. It would have asked New Jersey residents to pay $300 million dollars for an unlimited number of years, without providing the information needed to determine if the plan was justified.
It was the worst kind of corporate welfare, with no openness and nothing in return for the people of the state, such as more clean energy. But public pressure made them back down.
Now, a new pro-environment governor and newly elected legislature will give the issue careful consideration and, hopefully, demand that any plan, if needed, works for people of the state.
There will be fights we lose, but it's important to know we can still win if we keep working. To prevail, we'll need to continue to show the real-world impacts of the Trump administration's plans – from the asthma attacks that would be caused by weak smog standards to the economic harm from hobbling clean energy.
This is not only about fighting bad policy, but also about keeping up our energy in the months ahead. Sustained activism is our only path.
This post originally appeared on our Voices blog. 
Photo source: Joe Brusky