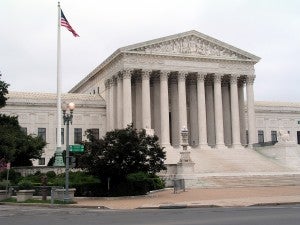 Earlier this week, Environmental Defense Fund (EDF), along with 11 other environmental and consumer groups, joined forces in asking the Supreme Court to hear an important case involving an energy resource that saves families and businesses money, improves electric grid reliability, and reduces carbon emissions: demand response. We've written a lot about demand response and the federal case that could determine its future (also known as EPSA v. FERC or the FERC Order 745 case), and for good reason – the legal and policy frameworks governing demand response are critical to our clean energy future.
Simply put, demand response relies on people and technology, not just power plants, to meet electricity demand. It balances stress on the electric grid by reducing demand for electricity, rather than increasing supply. This makes our grid more efficient, reduces harmful air emissions from fossil fuel plants, and keeps electricity prices lower.
And these aren't small savings – demand response cumulatively saves customers billions of dollars that would otherwise go toward more costly polluting resources. In 2013 alone, for example, demand response saved customers in the mid-Atlantic region $11.8 billion.
These savings have been encouraged thanks to sound policy developed by our nation's regulators, including the Federal Energy Regulatory Commission (FERC), the federal agency responsible for ensuring electric rates are 'just and reasonable'. [Tweet "It's hard to argue demand response isn't beneficial. That's why these groups have united on FERC Order 745: http://ow.ly/JAGVp "]
FERC regulates our nation's wholesale electricity markets and has played a key role in ensuring that demand response is allowed to compete on a level playing field with more traditional fuel sources. In 2011, FERC issued a landmark decision known as Order 745 that established uniform policies for compensating demand response resources in the wholesale energy markets. Order 745 has proven critical in fully leveraging the many benefits of demand response at the regional level by providing fair and predictable rules governing how demand response resources should be treated in FERC-regulated markets. At the same time, Order 745 preserved the traditional authority of states to determine whether demand response resources should be able to participate in those markets.
Last year, a divided panel of the D.C. Circuit struck down Order 745 based on the view that it intrudes on the regulatory authority of the states – even though Order 745 explicitly preserves state authority, and no states challenged FERC's authority to issue the Order. Now, a wide and diverse array of parties is asking the Supreme Court to review this important case and uphold FERC's authority to issue Order 745. Although this case raises complex issues, it ultimately boils down to a simple question: does the federal agency responsible for regulating our nation's interstate electricity system have the authority to regulate how demand response participates in that system?
A united voice
EDF isn't alone in asking the Supreme Court to review this case on demand response. The United States Solicitor General, which only requests Supreme Court review a limited number of cases with significant federal impact, has filed a petition before the high court. Others asking the Supreme Court to overturn the lower ruling include several state public utilities commissions, demand response companies, consumer advocates, and other environmental organizations. As a truly win-win resource, demand response is helpful to anyone who uses electricity – from customers to grid operators.
It's hard to argue demand response isn't beneficial. Rather, the argument parties make against the resource rests on a question of what lawyers call 'jurisdiction.' Jurisdiction, at its heart, is a question of whether the federal government or state government is responsible for ensuring something is being regulated properly. In cases where electricity crosses state lines, the law is clear: FERC has jurisdiction. And, as argued by these many groups, because demand response takes part (and helps reduce prices) in electricity markets that cross state lines, it too, should come under the scope of federal authority.
The road ahead…
With briefs filed last week by those in favor of Order 745, the conversation now shifts to those against it. Briefs against Supreme Court review are due in roughly one month. From there, it is up to the Court to determine whether or not to hear the case.
The fact that so many diverse parties are rallying around this customer-friendly energy resource for our nation speaks to its importance in an evolving energy landscape – one that not only asks the grid to be as reliable possible, but as efficient as well. That's why we and so many other parties are asking the Supreme Court to overturn the lower court's decision to help unlock the environmental and consumer benefits this resource affords. A united voice is always stronger than one, and we hope the U.S. Supreme Court takes note of the coalition of voices that came out this week in favor of demand response and FERC Order 745.