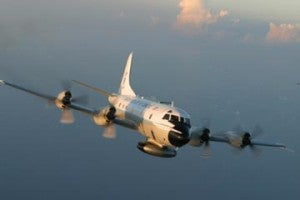 In the summer of 2013, researchers aboard a four-engine P-3 Orion aircraft – a variant of the plane used by the U.S. Navy to track submarines – flew over three of the nation's biggest shale gas regions, taking measurements that would allow them to estimate the amount of methane leaking from the production fields below.
The team from University of Colorado's Cooperative Institute for Research in Environmental Sciences (CIRES) and NOAA Earth System Research Laboratory published their findings this week in the Journal of Geophysical Research: Atmospheres, adding new depth to our understanding of methane leaks, but also underscoring important questions.
Comparing their readings to production figures for the region, they estimated a total leak rate of 0.18 to 2.8 percent, which is at the low end of the range of findings in other research. For some, this may be cause for celebration.
But don't pop the champagne corks just yet.
The study is just one snapshot – data from one afternoon, on one day, in each of the three places.
The study, which looked at gas fields in Louisiana and Texas, Arkansas, and Pennsylvania, offers a one-day snapshot of what was happening on the ground, as measured from the air. A one-day survey can produce results with a significant range of uncertainty.
For example, another flyover study of Utah's Uinta Basin, also led by researchers from NOAA and CIRES, showed leak rates ranging from 6.2 to 11.7 percent, and an additional flyover of the Denver-Julesburg Basin, led by NOAA, found leak rates in the range of 2.5 to 5.7 percent. This is just the case with the new study published today, which recorded methane leak rates from 0.18 to 0.41 percent in the Marcellus Shale to 1.0 to 2.8 percent in the Fayetteville.
More robust studies that cover longer time periods actually suggest methane emissions are often higher than previously estimated. EDF's own studies – including two released last week looking at the transmission and storage and gathering and processing sectors of the oil and gas industry – have repeatedly shown that random leaks and malfunctions are a major source of emissions.
Because these events are random, a one-day overflight will not give a full picture of emissions coming from a basin over a day, a month, or a year. What is needed is regular and ongoing monitoring.
This is why major oil and gas producing states like Colorado, Ohio, and Wyoming are instituting ongoing leak detection and repair programs and why states like Pennsylvania can continue to move the ball forward and show leadership by enacting strong methane regulations. The federal government has also recognized the importance of these measures, with the White House announcing in January a goal of reducing methane emissions 40 to 45 percent by 2025. The rules EPA will propose this summer to achieve that goal will likely include efforts to enhance emissions measurement and leak repair.
Leading companies recognize the need for such programs, too, with many joining us in the Methane Detectors Challenge, a project to identify and deploy technology capable of providing continuous emissions monitoring at sites.
Methane has the potential to undermine the climate benefits natural gas provides over other fossil fuels. If natural gas is to truly provide a cleaner energy alternative to get us on a path toward a non-carbon future, it must be produced responsibly, with strong regulations that require leak detection and repair to prevent harmful methane emissions.
The CIRES study is just one in what is becoming a large body of scientific analysis of methane emissions and doesn't tell the full story. Continuing research by EDF and others will help us understand the bigger picture of these emissions and provide policymakers and industry leaders with the information they need to help prevent them.
Photo Source: National Oceanic and Atmospheric Administration