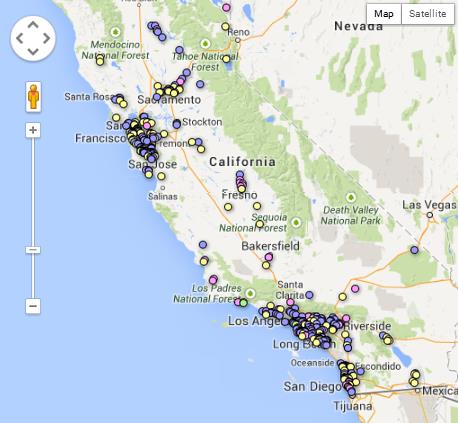 By: Emily Reyna, Senior Manager, Partnerships and Alliances
Clean energy and clean tech sound exciting, but most people don't see these businesses as a major part of our economy, especially when traditional fossil fuels rule at the pump.
But thanks to policies like California's Low Carbon Fuel Standard and cap and trade, more and more businesses are giving us options when we need to get from point A to point B, and they form an increasingly important source of economic growth in the state. From cars running on used vegetable oil (biodiesel) to cars you can plug into your house, new and exciting innovations are fast coming to market.
The new interactive Green Roads Map that EDF created in partnership with CALSTART, Environmental Entrepreneurs (E2), and the Natural Resources Defense Council, shows that we have many emerging options for our cars and transportation fleets, and that clean transportation is a flourishing industry in California.
The Green Roads Map is more than just a collection of dots – the map presents an important picture of the investors, researchers, producers, and salespeople who are transforming our economy and transportation system today.
The companies listed on this map span four key sectors: energy efficiency & vehicles, fuels & infrastructure, education & consulting, and investment, showing just how diverse and expansive this industry is in the Golden State. From Electric Vehicles International based in Stockton to A-1 Alternative Fuels Systems based in Fresno, innovation in clean transportation is right in your backyard.
The interactive map allows any state legislator, business person, or interested California citizen to zoom in on their district or neighborhood and identify the clean energy businesses growing in their own communities.
For example, Californians living in the city of Stockton can use this tool to get information about green technology companies that are located right in their backyard, all of which are providing jobs and benefiting the local community. One of these companies is Community Fuels, a company working to make biodiesel a viable and scalable alternative to dirty fossil fuels through rigorous research and quality production. Alternatively, the residents of Foster City can discover that Motiv Power Systems is working to place clean and affordable electric school and shuttle buses on the roads.
Transportation is California's biggest contributor to climate change and air pollution – the latter of which is a critical health problem for many of our communities. The good news is that this growing green transportation industry is incentivizing cleaner, more efficient transportation and helping to clear the air – a triple win for business, people, and our climate.
While opponents seeking to derail these policies ignore a thriving clean transportation sector built in-part on the expectation that these policies will continue, the Green Roads Map shows Californians why efforts to delay or revise cap and trade and the Low Carbon Fuel Standard undermine the burgeoning economic growth and compromise the health benefits that come along with these policies.
The 300 plus companies on the Green Roads Map are innovating and moving us forward to a clean and more independent energy future.
Check out our new interactive map and if you see a clean transportation company in your neighborhood missing, let us know.
This commentary originally appeared on our California Dream 2.0 Blog.