NYC Government, Private Sector and Civic Groups Collaborate to Cut NYC's Soot Pollution from Heating Oil 50% by 2013
At a press conference in the Bronx today, EDF stood with leaders in government, finance and real estate to launch an unprecedented partnership to upgrade thousands of buildings in New York City to clean heating fuel and greater efficiency, with the goal of cutting soot pollution in the most polluted neighborhoods.
EDF President Fred Krupp said "The heating oils used in one percent of New York City buildings create more soot pollution than all the cars and trucks in the City combined – that's why upgrading these buildings to cleaner heating fuel is the single largest step New Yorkers can take to solve local air pollution."
This project can only set such ambitious goals – and win – because the right stakeholders are at the table to get it done.  Everyone is doing their part: 
Government is setting background regulations in a way that gives buildings flexibility on how to achieve the pollution reductions;
Real estate leaders (from supers to landlords and managers) are "doing the math" for their buildings to find the most cost-effective path to solutions that both cut heating costs and reduce pollution;
Utilities and fuel providers are expanding their services to deliver a wider range of cleaner fuels — from low-sulfur oil to biodiesel and natural gas to energy efficiency upgrades; 
Banks , entrepreneurs and local government are stepping up to provide financing to buildings that need it in order to swap equipment that can handle the cleaner fuels; and
EDF (and other non-profits) are organizing reams of data to be actionable by government and the private sector, doing outreach at the community level and making the health and business case.
In fact, today's announcement puts almost $100 million on the table to help buildings take advantage of clean fuels and technologies.  This financing, made possible by  JP Morgan Chase, Deutsche Bank, Citibank, Hudson Valley Bank, the New York City Energy Efficiency Corporation, and the Community Preservation Corporation, will target low- and moderate- income buildings.
Leading up to this announcement, this teamwork has already resulted in 450 buildings upgraded, even before the launch.  It's one of the largest clean energy projects for buildings anywhere.  We expect over a thousand more by the end of the year; and by targeting the most polluting buildings, we will cut pollution from heating oil in half by the end of next year.
Buildings from the legendary Beresford on Central Park West, to St. Barnabas Hospital in the Bronx are on track.  I believe that this collaboration is a powerful model for cities around the world.  By bringing together government, real estate, finance, utilities, advocates and community leaders, we're finding practical solutions that work for health, for the planet and for today's economy.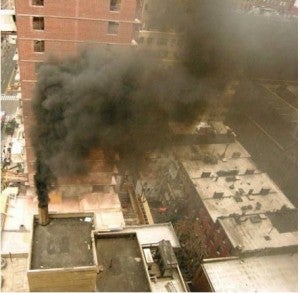 As New Yorkers, 80% of our carbon footprint is the result of the energy used in our buildings.  Mega-cities around the world are huge ecosystems of buildings: imagine if we could take this model of collaboration to scale, across the U.S. and the world.  Next week, leaders are gathering in Rio to work on global solutions to help save the planet.  I hope they look to what we've accomplished, by working together, here in New York City.
For more information about Clean Heat, see NYC Clean Heat's webpage and EDF's website describing the background and progress so far.