By: Emily Martin, 2011 Climate Corps Public Sector Fellow at the Township of Ocean, NJ; MEM candidate at the Nicholas School of the Environment, Duke University; LEED Green Associate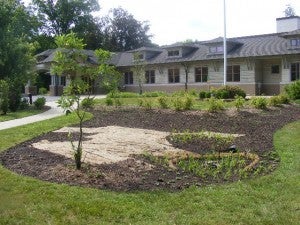 Immediately following Climate Corps Public Sector training in Durham, NC, I headed to the Jersey Shore for the first time, not quite sure what to expect. After all, my previous exposure was limited to media coverage, and any news of the state's sustainability efforts have been overshadowed by the antics of certain shore residents.
After arriving in Ocean Township, however, I gained a new perspective on New Jersey when I met the township's manager and members of the "Green Team." I was introduced to "Sustainable Jersey," a certification program for municipalities in New Jersey that want to go green, control costs and save money, and take steps to sustain their quality of life over the long term. So far, over 70 New Jersey municipalities are certified under this program. Ocean Township is currently working toward its certification.
One action that will help Ocean receive a Sustainable Jersey certification is the creation of a rain garden at the municipal library. Rain gardens allow 30% more water to absorb into the ground, which decreases storm water runoff and reduces pollution in streams, rivers, and lakes. They can even count as credit toward LEED certification for the library. Read More »