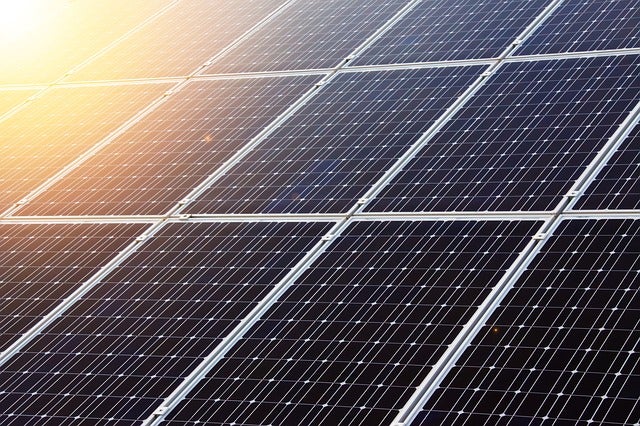 The Clean Power Plan oral argument is coming up soon. On September 27, attorneys will present their arguments in front of the full U.S. Court of Appeals for the D.C. Circuit.
EPA and the many supporters of the Clean Power Plan have already filed their written arguments – and so has the coalition of coal companies and their allies that are challenging the rule. (You can read all their submissions here.) And just yesterday, the D.C. Circuit released the final order on the argument's format and duration.
The Clean Power Plan is America's first-ever nationwide program to reduce carbon pollution from power plants. It sets eminently achievable carbon emission targets that phase in gradually, in line with current power sector trends, while giving states and power companies tremendous flexibility to determine how best to meet these goals.
As we approach September 27, here are five key facts to keep in mind:
The Clean Power Plan has supporters across the country.
Power companies and state and local officials in forty-one states are supporting the Clean Power Plan in court – either through their state attorney general, a local power company, or a municipality. And there are a lot more supporters as well.
The final submitted briefs reflect a wide array of important perspectives in our society. Supporters of the Clean Power Plan in court include:
Leading businesses. Power companies that produce about 10 percent of our nation's electricity as well as prominent, iconic businesses including Adobe, Amazon, Apple, Google, IKEA, Mars, and Microsoft
States and municipalities. 18 states and 60 cities, including major cities in states that are litigating against these protections – like Houston, Grand Rapids, and Miami
Consumers Union and other organizations addressing the economic benefits for consumers and low income ratepayers from expansive, low cost clean energy solutions
41 faith communities including the National Council of Churches and the Catholic Climate Covenant
Numerous renewable energy companies that are members of the Advanced Energy Economy, American Wind Energy Association, and Solar Energy Industries Association, which together represent more than 3,000 companies in the advanced energy sector, a $200 billion industry in the United States
25 business associations including American Sustainable Business Council, U.S. Black Chambers, Inc., as well as state associations from West Virginia, Kentucky and Ohio, among others
Current and former members of Congress, including 36 sitting Senators and 157 sitting members of the House
Leading public health associations such as the American Medical Association and the American Academy of Pediatrics
National security experts including former Secretary of State Madeleine Albright and former Secretary of Defense Leon Panetta
The legal and technical foundation of the Clean Power Plan is rock solid.
The Supreme Court has affirmed EPA's authority to regulate greenhouse gases under the Clean Air Act three times since 2007. In American Electric Power v. Connecticut (2011), the Supreme Court specifically held that section 111(d) of the Clean Air Act – the provision that underlies the Clean Power Plan – "speaks directly" to the regulation of carbon pollution from existing power plants.
EPA exhaustively analyzed the Clean Power Plan to ensure that it was based on the best available technical information and would not compromise the affordability or reliability of our electricity supply. EPA also reviewed millions of comments, received on every aspect of the proposed version.
A range of renowned experts have affirmed the robust legal and technical bases for the Clean Power Plan in amicus brief submissions to the D.C. Circuit, including:
The Institute for Policy Integrity — represented by New York University Law Dean Emeritus Richard Revesz
Former EPA Administrators William Ruckelshaus and William Reilly, who served under Presidents Nixon, Reagan and George H.W. Bush — represented by Harvard Law School's Jody Freeman and Richard Lazarus
Leon Billings and Tom Jorling — the principal drafters of the 1970 Clean Air Act
Former state energy and environmental officials — including Larry Soward, Commissioner at the Texas Commission of Environmental Quality under Texas Governor Rick Perry
Premier electric grid experts, who affirmed that EPA's approach is fully in line with on-going power sector trends
Top climate scientists, who articulated the latest research on observed and projected impacts from our changing climate
The tremendous pace of clean energy development further reinforces the Clean Power Plan's reasonableness.
The cost of renewable energy is falling at an extraordinary rate, spurring dramatic expansion in its use. The cost of new wind power has dropped 60 percent — and the cost of new solar by 80 percent — since just 2009.
Renewable energy is anticipated to make up approximately 63 percent of new capacity additions in 2016. In fact, the amount of new renewable energy capacity developed in the first three months of 2016 exceeded new natural gas by a factor of more than seventy to one. Almost 100 gigawatts of additional new renewable energy resources are now projected in the United States by 2020, and annual investment in energy efficiency has quadrupled in the last decade.
America's powerful clean energy trends further buttress the feasibility of the Clean Power Plan's targets. But you don't have to take our word for it — because power companies have said so themselves.
In their Clean Power Plan filing, major power producers emphasized their strong support for the Clean Power Plan, highlighting that it "harnesses existing trends within the electricity sector" and was set "with ample margin and attention to what is practically attainable."
As the companies noted, both they and the power sector in general have "have successfully reduced emissions within their generation portfolios without compromising reliability and will continue to do so" under the Clean Power Plan.
Dominion Resources, an owner of several large coal-fired power plants in the Mid-Atlantic, affirmed the feasibility of compliance in a lengthy amicus brief submitted in support of the Clean Power Plan.
States and power companies are charging ahead.
On February 9, 2016, the Supreme Court stayed enforcement of the Clean Power Plan in an unprecedented order. Nonetheless, states and power companies are voluntarily moving ahead, in recognition of the tremendous value in following the Clean Power Plan's flexible, sensible approach to achieving emissions reductions.
More than half of states are continuing to assess planning options under the Clean Power Plan. 14 states across the country have explicitly requested that EPA continue providing information and guidance to help them make informed decisions about potential Clean Power Plan obligations as they continue moving forward. California developed its proposed Clean Power Plan state plan in a year and released it for public comment earlier this month. State officials across the country have voiced support for sensible continued planning — as one Wyoming state legislator put it, "Wyoming should be prepared." (See a full compilation of state statements on the Clean Power Plan here.)
Power companies across the country have expressed similar sentiments. A representative from Mid-American Energy highlighted that they "wish" the stay hadn't happened, because of the resulting uncertainty. American Electric Power, a major producer of coal-fired electricity, said that the Supreme Court stay "doesn't change our focus on the diversification of our generation fleet," and those diversification plans include more gas and renewables. Power companies are already investing in clean energy in response to the market and their customers — for these companies, any delay in planning creates needless risk and uncertainty.
This record-breaking summer highlights just how urgently we need sensible climate protections.
It's challenging to encapsulate all the extreme weather we've witnessed in 2016. Just in the U.S., we've experienced a series of dangerous heat waves, deadly floods, and extreme storms. This week's flooding in Louisiana is just the latest heart-rending example — with lives tragically lost and upended across the state. Yesterday, NASA announced that July 2016 was the warmest month ever in 136 years of modern record-keeping. According to the World Meteorological Organization, 2016 is firmly on track to be the warmest year yet. The Weather Channel noted all of these wild weather events from the first six months of 2016 together here, in a website on 2016's "Weirdest Weather." All these events are fully in line with the hotter, more extreme weather that's predicted under a changing climate.
Meanwhile, new research only underscores the human health costs of climate change. Mitigating the human health impacts of climate change will add to the Clean Power Plan's substantial health benefits from reducing soot and smog pollutants. EPA estimates that once the Clean Power Plan is fully implemented, these reductions will — every year — avoid 3,600 premature deaths, 1,700 heart attacks, 90,000 asthma attacks, and 300,000 missed workdays and schooldays.
These climate risks and essential health benefits highlight the importance of having a mandatory framework to ensure emissions reductions. Clean energy trends are already charging ahead, but investors need the certainty that the Clean Power Plan provides — and all Americans' health and well-being are depending on it.