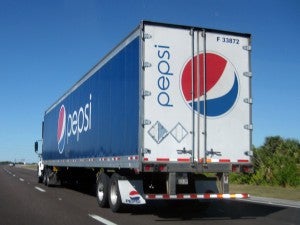 The Clean Truck standards are here!
The U.S. Environmental Protection Agency (EPA) and U.S. Department of Transportation (DOT) just announced new greenhouse gas emissions and fuel efficiency standards for medium- and heavy-duty vehicles.
These are the second phase of EPA and DOT's joint program for heavy-duty trucks.
They will apply to the freight trucks that transport the products we buy every day, as well as to buses and school buses, tractor-trailers, heavy-duty pickup trucks and vans, and garbage trucks for model years 2018 to 2027.
These standards will have widespread benefits. They'll help ensure that our nation's fleet of trucks uses dramatically less fuel, will cut climate and other harmful pollution, and will save both truckers and consumers money. EPA and DOT estimate they will yield $230 billion in net societal benefits over the life of the program.
Here's a bit more on the benefits of the new Clean Truck standards, by the numbers:
Cutting Pollution
1.1 billion tons of carbon pollution: EPA projects the standards will reduce carbon dioxide emissions by 1.1 billion tons over the lifetime of vehicles sold under the program.
550,000 tons of nitrous oxides and 32,000 tons of particulate matter: EPA projects that the standards will have multi-pollutant benefits and result in significant reductions of nitrous oxides and particulate matter — harmful air pollutants associated with respiratory ailments and premature death.
Saving Fuel
2 billion barrels of oil: EPA estimates that the standards will save two billion barrels of oil over the lifetime of vehicles sold under the program.
Saving Money
$170 billion: EPA estimates that over the lifetime of the program, the standards will save vehicle owners fuel costs of about $170 billion.
2 years: The typical buyer of a new long-haul truck in 2027 could recoup the cost of modernizing with advanced low-emitting technologies in less than two years through fuel savings.
$250: The program will also benefit con­sumers by reducing the costs for shipping goods. The Consumer Federation of America found that rigorous fuel economy and greenhouse gas standards could save American households $250 annually in the near term and $400 annually by 2035.
Broad Support
300 Companies: More than 300 companies called for strong final standards during the rulemaking process, including PepsiCo and Walmart (two of the largest trucking fleets in the U.S.), mid-size trucking companies RFX Global and Dillon Transport, and large customers of trucking services General Mills, Campbell's Soup, and IKEA. Innovative manufacturers, equipment manufacturers, and freight shippers have also called for strong standards.
Strong Clean Truck standards are also supported by national security and veterans groups, labor, consumer, and health groups, and clean air advocates (including EDF). 
Beyond the numbers, they are a testament to the fact that when we work together we can secure commonsense standards that protect public health while driving innovation and helping to create more efficient trucks for the future.
(This post was co-written by EDF Legal Fellow Alice Henderson)