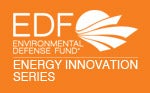 EDF's Energy Innovation Series highlights innovations across a broad range of energy categories, including smart grid and renewable energy technologies, energy efficiency financing and progressive utilities, to name a few. This Series helps illustrate that cost-effective, clean energy solutions are available now and imperative to lowering our dependence on fossil fuels.
Find more information on this featured innovation here.
Few people walk into a car dealership and ask to see all of the 2.0 liter engines or only the 200 horsepower cars. Those technical specs are important, but most people shop by model, price or features.
Yet homeowners that want to install solar panels often find themselves buried in a mound of technical details that are not only confusing, but intimidating. And expensive. Austin-based sustainable living retailer Treehouse is changing that and proving that energy innovation is sometimes less about technology and policy and more about thinking like customers.
"The solar industry has done a great job educating people about the benefits of solar energy," said Treehouse founder and president Jason Ballard. "But it's done a bad job of making solar easy to buy." Read More »