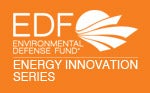 EDF's Energy Innovation Series highlights innovations across a broad range of energy categories, including smart grid and renewable energy technologies, energy efficiency financing and progressive utilities, to name a few. This Series helps illustrate that cost-effective, clean energy solutions are available now and imperative to lowering our dependence on fossil fuels.
Find more information on this featured innovation here.
Mosaic's "crowd-investing" concept gives people the opportunity to invest in a clean, low-carbon energy economy
Over the last decade, web-based crowd funding has grown from a clever way for fans to fund their favorite artist to a multimillion dollar funding option for just about anyone with a new widget.  For as little as a few bucks, anyone can help a friend or stranger get a good idea to market, and you might even get one of the first CDs or gadgets that come off the line.
But crowdfunding isn't really an investment.
Oakland-based Mosaic wants to do for renewable energy investing what crowdfunding sites have done for entrepreneurs. But rather than just offering a chance to help, Mosaic offers a piece of the profit.  Think of it as a renewable energy Kickstarter with a kickback.
"We connect individuals and institutions with high quality solar project investments," said Billy Parish, president and founder of Mosaic. "The fastest way to grow the clean energy economy is to allow more people to benefit from it." Read More »