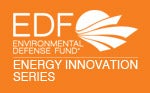 EDF's Energy Innovation Series highlights innovations across a broad range of energy categories, including smart grid and renewable energy technologies, energy efficiency financing and progressive utilities, to name a few. This Series helps illustrate that cost-effective, clean energy solutions are available now and imperative to lowering our dependence on fossil fuels.
Find more information on this featured innovation here.
As this series has demonstrated, energy innovation is happening around the world in a wide range of areas, from energy storage and smart grid technologies to renewables, electric vehicles and energy-saving software and services.
But innovation isn't just about inventing new technologies.  It's about getting those technologies out into the market.  And when it comes to bringing renewable energy options to residential and commercial customers, Texas-based Green Mountain Energy Company was the first to be 100% dedicated to cleaner energy with the electricity market opened to competition in the state in 2002.
Founded in 1997, Green Mountain is the country's longest-serving retailer dedicated to renewable energy, selling all-renewable energy options directly to residents and businesses in competitive markets in Illinois, Maryland, New York, New Jersey, Pennsylvania and Texas, and partnering with utilities in other regulated markets.