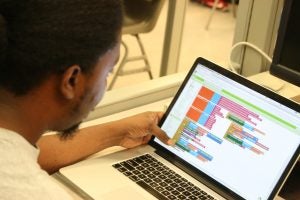 When I stop for a quick bite back home in rural North Carolina, I know the restaurant crowd is not always an indication of how great the food is. Often people are there for the free internet connectivity because access is very limited in the community.
The digital divide between those who have internet at home and those who do not occurs in both rural and urban areas. It is markedly apparent in rural communities, where nearly 40 percent of residents lack access to broadband, compared to 4 percent in cities.
As a result of the digital divide, rural communities are suffering, yet are coping in innovative ways with the help of strong leadership from rural electric cooperatives. More than 900 member-owned, non-profit rural electric co-ops today represent more than 42 million people in 47 states.
Rural electric co-ops are more than just poles and wires; they are economic drivers for the communities they serve. They are in the business of not only providing energy, but also social and economic benefits.
Broadband helps rural co-ops use new technologies.
CoBank, which provides financial services to rural public utilities, recently released a report, "Making the Move into Broadband: Rural Electric Co-ops Detail Their Experiences." The report shares best practices from six electric co-ops that deliver both power and internet service to their rural members.
"[Rural cooperatives] are attracting new businesses, making it possible for their members to work from home, and improving education, health care, and overall quality of life," said Jonathan Mann, a credit supervisor in CoBank's Denver office.
[Tweet "Rural communities need internet access, and rural electric co-ops are providing it"]
Broadband provides multiple benefits to rural communities.
What does broadband have to do with energy? Actually, broadband has a lot to do with energy, and we must be concerned with communities that do not have modern-day access to both. Today, some energy technologies, such as smart meters and energy apps, depend on the internet to help the electric grid operate more efficiently.
In addition to helping co-ops modernize their infrastructures, broadband offers multiple benefits to member-owners:
Help boost economic development – As Brett Kilbourne, General Counsel and VP of Policy at the Utility Technology Council explains in the CoBank report, "Today, broadband is just as essential as electricity service was during the turn of the last century. Electric companies are proposing to provide broadband service and internet connectivity for the same reason they began providing electricity back in those days, and the reason is simple: You will attract new businesses in rural areas, where today we are currently seeing population declines. We believe lack of broadband is driving migration from rural areas to urban areas. For example, lack of broadband creates difficulty for people trying to find jobs."
Improve access to health care – Internet connectivity can increase access to medical professionals with telemedicine and other online resources. For example, the report cites medical record sharing and remote surgery.
Expand access to educational resources – Internet connectivity can enrich educational experiences with access to mobile technology, expanded research, online classes, and tutorials. Having these resources will help students be more competitive and better prepared for a post-secondary education. According to The Atlantic, "There are practical reasons to raise rural college-going rates. Economies in states including Iowa are shifting toward industries such as information technology, wind energy, and health care, which require postsecondary educations."
Allow co-ops to communicate directly with electricity users – Two-way communication, such as the use of smart thermostats or load management devices on appliances, allow co-ops to run efficiently when demand is high. By better using resources, the co-op can improve its bottom line and pass savings to members.
In the business, energy, and environmental sectors, we often focus on individual missions. By seeking a holistic view, we can explore more opportunities and stronger outcomes. Having broadband available in rural communities is a big boost for local economies, families, and clean energy. Broadband must be available for rural co-ops to take advantage of more efficient energy technologies to improve grid security, reliability, and resiliency.