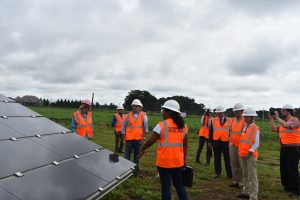 This summer, Environmental Defense Fund (EDF) and The Nature Conservancy (TNC) collaborated with First Baptist Church in Mount Olive, North Carolina to host an event to explore the new opportunities solar energy is providing for the church and Wayne County.
We spent most of the day together and heard how First Baptist Church is benefitting from solar energy projects situated a couple of miles from the church. The church has provided land for two solar installations, built by Birdseye Renewable Energy and owned and operated by Strata Solar, a Chapel-Hill based solar developer. The solar farm we all toured generates more than 10,000 MWh of energy every year.
Speakers included Senior Pastor Dennis Atwood and Angelo San Fratello, President of Trustees.
"It's a matter of stewardship for us and we didn't want the land to be developed for some purpose that would be contrary to the mission of our church," Atwood said. "And solar farming is clean energy, and it's a good use of the earth and it essentially goes back to providing power for almost an entire town."
[Tweet "How solar helps this church community thrive"]
Financial creativity
Mount Olive is home to 4,740 people, more than 20 percent of whom live below the poverty line. In 2003, the church was gifted the 130 acres of land where the two solar farm now sit. When Birdseye Renewable Energy approached First Baptist in 2011 with interest in leasing the land for solar development, church trustees saw an opportunity to use some of the land as "a theological complement" that could pull them from financial quicksand.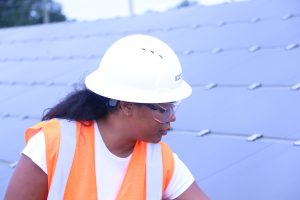 "We were operating in the red, and this pulled God's house out of the red," Fratello said. "It's been good for Wayne County, it's been good for Mount Olive, and it's been good for the church."
Now, Strata Solar pays over 400 percent more in rent than what First Baptist was making from traditional land leases. Strata Solar has contracted with First Baptist through 2044.
"Churches today have to be creative and innovative to supplement the decline in many cases in that traditional plate offering," Atwood said, noting that First Baptist's were the first two solar installations in Wayne County.
Encouraging innovation
Rural areas are crucial to meeting both state and national clean energy goals. No state knows this better than North Carolina, where 26 electric co-ops serve more than 950,000 homes and businesses.
"In a small town particularly, change just doesn't happen real fast," Atwood said. "So, again, it took a lot of conversation and just transparency and educating." 
State and Federal energy policies help make new economic opportunities for local groups and institutions like Mount Olive Baptist Church possible.
State and Federal energy policies help make new economic opportunities for local groups and institutions like Mount Olive Baptist Church possible – including U.S. Department of Energy research and development programs that help drive innovation and commercialize new technologies; policies supporting competition among independent energy providers; and tax policies encouraging private investment in clean energy businesses and projects.
EDF and TNC plan to continue to grow the conversations we started that day, along with our new friends at Mount Olive Baptist Church.
Photo credit: Avery Lennard, The Nature Conservancy