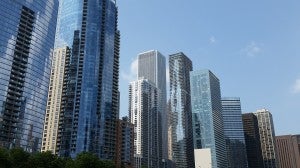 One degree Fahrenheit.
Yes, that was Friday's temperature in Chicago.
But instead of thinking about jetting off to a sandy beach in the Caribbean, my thoughts instead turn to a more practical matter. As I look across the Chicago skyline, I wonder how many of these buildings have old, inefficient heating systems.
The good news is that right here in Chicago, some building owners are finding better, more efficient ways to heat — and in balmier times, cool — their properties.
Over the past year, EDF, the City of Chicago, and some of the city's leading building owners have teamed up to make real progress in cutting energy use and costs. 
The results of this partnership have helped Chicago move closer to the goal of the city's Retrofit Chicago initiative: reduce commercial energy use in participating buildings by 20 percent in five years. The Mayor's office has set the bar for energy savings, and EDF Climate Corps is providing boots on the ground to get it done. And Chicago's leading building owners and operators are showing creativity and innovation in taking their energy management to the next level. Read More »