By: Amy Chiang, student at the University of Michigan, the 2015 EDF Climate Corps fellow at General Motors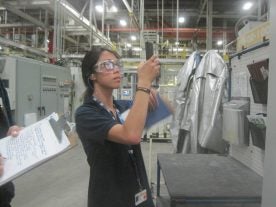 I was already level with the roof on a ladder when my General Motors supervisor pointed out the irony of my situation. As an Environmental Defense Fund Climate Corps fellow, I was destroying the homes of the young maple tree seedlings trying to grow in the rain gutter of a Detroit home. I'm all for trees, but not when they take up residence in a rain gutter.
But how did I find myself on a roof in Detroit? Partly because my answer to the "are you scared of heights" question was "no," but also because I was embedded for a summer in GM's foundry division as part of my EDF Climate Corps fellowship.
With a background working in clean, renewable energy resources, I did not expect my next project would be on sustainability at an aluminum foundry – where raw metal inputs are melted down and cast into the desired part. However, it turns out that foundries actually consume the most energy in the vehicle manufacturing process – second only to paint – with 50 percent of the energy consumed in the furnaces used to melt and hold the metal. To assist in future energy reduction, this summer I developed a matrix to help GM compare their furnaces and aluminum foundries to realize energy savings. Read More »