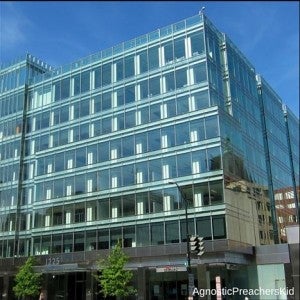 Buildings use nearly 40 percent of all energy in the U.S. and account for a third of our greenhouse gases. Today, a growing number of commercial real estate leaders are looking for opportunities to upgrade what they've already got – rather than starting from scratch – to save money and lessen their environmental impact. These commercial real estate leaders know there is a great deal of potential in starting small, and in focusing on what best serves their bottom line.
Organizations that need a more tailored approach to making their real estate energy-efficient have a myriad of opportunities that are now being pioneered by property owners across the country. Leading companies are applying outside-the-box energy management solutions to buildings constructed before the green-building boom.
Here are two examples of companies that enlisted Environmental Defense Fund's Climate Corps program to accelerate clean energy projects in their facilities and meet their corporate energy goals:
77 West Wacker, a JLL-managed property in Chicago, had already tackled its base-building operations and found ways to reduce 32 percent of its energy use through certification under LEED (short for Leadership in Energy and Environmental Design) and other measures before deciding there was more to do. The building is now advancing new approaches to both comprehensive energy management and tenant engagement with the goal of cutting an additional 26.5 percent of its energy use by 2018.
Shorenstein Properties, based in San Francisco, has one of the industry's most respected sustainability programs with 15 million square feet of its portfolio LEED-certified and an average ENERGY STAR score of 82 out of 100 points. For the last two years, Shorenstein has earned the Global Real Estate Sustainability Benchmark "Green Star," the highest rating, by focusing its sustainability strategy on smart operation, investment in efficiency, and tenant engagement.
[Tweet "Management tools boost older buildings' #energyefficiency & bottom lines."]
Moreover, retrofitted buildings can earn LEED certification through a path designed specifically for existing buildings, and they are greatly expanding the market of energy-efficient buildings.
Over the next three years, new LEED-certified construction will contribute more than $303 billion to the United States' economy, a recent study concluded. This year alone, the industry will generate 2.3 million jobs. By 2018, this new construction is expected to save more than $1 billion in energy usage and more than $100 million in water use.
The trend isn't limited to the U.S. Leading global brands are also making energy-efficiency a priority.
This post originally appeared on our EDF Voices blog.