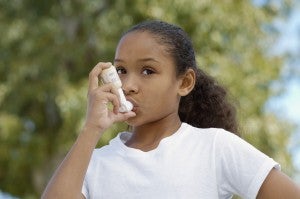 One of the country's largest leaks ever of natural gas, which is primarily made up of the potent greenhouse gas methane, has been going on in California's Aliso Canyon for over a month. The volume that's been leaking has been staggering—and the impacts to local residents severe enough to warrant relocating hundreds of families.
Major disasters like the one unfolding in Aliso Canyon have a tendency to grab our attention because the impacts are so acute and can be immediately documented—from the volume of methane that's leaked (latest climate impacts estimate: equivalent to driving 160,000 cars/year) to the documented health impacts (bloody noses, headaches, breathing difficulties, nausea).
The Aliso Canyon leak, however, also provides us a good reminder of what communities across the U.S. who are close to oil and gas facilities have been increasingly concerned about—the ongoing environmental impact of air pollution that is being released into their neighborhoods, and the safety of those operations. Most of the pollution is invisible to the naked eye, but infrared cameras are bringing the problem into sharper focus, and with that a louder call for action and oversight by federal officials. EPA estimates that today, methane leaks from onshore oil and gas development is contributing climate impacts equivalent to driving nearly 130 million cars annually. And their emissions are contributing to unhealthy air for residents living next door and downwind of this development.
That is why the Environmental Protection Agency's (EPA) first-ever proposed rules to limit methane pollution from the nation's oil and gas industry under the Clean Air Act are a welcome development.
At an October event hosted by the Center for American Progress, Gina McCarthy, administrator of the EPA reiterated the need for these important standards, reminding the audience that reducing climate pollution—and the greenhouse gases that cause it, like methane—is a public health issue. "That's been one of the big surprises to me, how little [people] have made the connection between climate and public health…" said Administrator McCarthy.
Methane pollution from the oil and gas industry packs a double whammy to our health because, as Administrator McCarthy reminded us, its emissions are not only climate forcers, but are also "bottled up" with other pollutants like volatile organic compounds and toxics like benzene. This should give us double the motivation to reduce this unnecessary pollution.
Here's how methane emissions are delivering that one-two punch when it comes to our health:
Methane speeds up climate change, exacerbating its health impacts
Potent methane pollution leaks throughout the oil and gas supply chain. The amount released annually has the same short-term impact on our climate as 160 coal fired power plants. In fact, our analysis based on data from the world's leading scientists suggests that more than half of the warming we will experience over the next 20 years will be due to the continued release of methane and other powerful, short-lived pollutants into the atmosphere.
By now, the health impacts (and associated costs) attributed to climate change are well understood. Heat waves, for example, increase the risk of heat stroke and heart problems. And warmer winters are contributing to the spread of pests like mosquitos and, posing greater risks to people and wildlife.
Maybe less well known is that rising temperatures can make local air pollution worse by contributing to faster formation of ground-level ozone, also known as smog. Smog is a dangerous air pollutant that can aggravate asthma and other lung diseases. Breathing unhealthy levels of smog pollution can also increase the likelihood of heart attacks or other cardiovascular problems. Children, who spend a greater share of their time outdoors, are more prone to these consequences, especially the 6.8 million children across the U.S. diagnosed with asthma.
Don't just take it from me: The American Lung Association warns us that "climate change is already taking a toll on the lung health of millions of Americans from worsened air quality, extreme heat events, wildfires and more." And just last month, the American Academy of Pediatrics affirmed that "climate change poses threats to human health, safety, and security, and children are uniquely vulnerable to these threats."
Oil and gas methane pollution is mixed with smog-forming pollutants and toxic chemicals
Over 50 million Americans live in a county home to oil and gas operations that also has measured air pollution levels exceeding the federal health standard.* In states around the country, including rural regions in Wyoming and Utah, increased smog levels have been directly tied to nearby oil and gas operations.
As Administrator McCarthy said, "When you look at methane from the oil and gas sector, you are looking at opportunities to reduce ozone forming chemicals." That's because methane is released alongside other toxic chemicals – like benzene, a known human carcinogen. With low-cost solutions available today to cut methane and these other pollutants, this is an easy problem to fix.
The EPA has an opportunity to not only protect communities living near oil and gas operations, but to protect all of us who are impacted by climate change, by securing comprehensive rules to limit methane pollution from the oil and gas industry.  As the American Academy of Pediatrics said "failure to take prompt, substantive action [on climate change] would be an act of injustice to all children."
Learn more in our health fact sheet, and add your support for these important rules today.
*70 parts per billion is the new ozone standard per the recent EPA announcement.  EPA, in partnership with states, is in the process of determining areas that meet or exceed the standard.