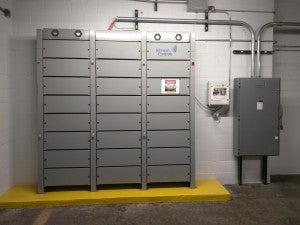 When you think about something that is 85 years old, you might think of history and tradition but not necessarily innovation. However, when the 85-year-old in question is a Chicago landmark committed to finding new ways to tackle energy management, cutting-edge solutions are par for the course.
The Merchandise Mart is a massive commercial space, spanning two city blocks along the Chicago River and offering some 4.2 million square feet of floor space. As expected, its energy consumption is also enormous, but the building has long been a leader in efficiency. And recently, the Mart took an even bigger step forward by unveiling an innovative battery storage unit that will help balance the electric grid – and earn money while doing it.
How the Mart came to be a clean energy leader
Built in 1930 for Marshall Field & Co., the Kennedy family owned the art deco structure for more than half a century, before selling it in 1998 to Vornado Realty Trust. Efficiency efforts began in the 1980s with the installation of an ice-storage cooling system that freezes tons of water overnight when cooling needs are minimal, allowing the building to shift power consumption to off-peak periods, save money, and reduce pollution.
Vornado later implemented a comprehensive sustainability program for the Mart that, among other things, reduces overall water consumption, optimizes energy efficiency, and encourages renewable and alternative energy sources. The efficiency efforts culminated in LEED certification from the U.S. Green Building Council in 2013. As a result, the Mart is one of the largest green buildings in the world.
Despite such progress, Vornado recognized more gains were possible. In 2014, it hired an EDF Climate Corps fellow to determine why after-hours energy use was so high in some sections of the building. The fellow walked the Mart's lengthy corridors – an almost eight mile route – multiple times to manually read the meters and calculate individual energy use and power footprints. By also analyzing lease data and information about individual tenants' lighting and appliance usage, he found that 34 percent of the building's tenants accounted for 90 percent of its after-hour use.
The analysis revealed that adjusting lights and usage behavior meant the Mart could reduce 470 metric tons of carbon emissions and save 520,000 kilowatt hours of electricity annually – the equivalent of $60,000 in savings. Armed with this information, the fellow and the team at the Mart then began tenant outreach that included easy energy-conservation tips, individualized reports on energy use and peer energy performance, and information on available utility incentives to encourage tenant adoption of energy efficiency measures.
[Tweet "How one of Chicago's most iconic landmarks is saving money through #EnergyStorage."]
How the Mart's energy storage leads to lower electricity costs
Based on additional assessment done by the fellow, the EDF-Mart collaboration expanded to evaluate and implement battery storage. Energy storage enables buildings to help balance the electric grid – even better than power plants can. That's because battery power can ramp up or down in two second intervals when needed, which is faster and easier than adjusting power plants. Therefore, the battery can respond to changing conditions on the electric grid by either releasing energy or charging as necessary, all without having to alter the Mart's electricity use.
By installing a battery that helps maintain the grid's balance, the Mart would be able to participate in the ancillary services electricity market and earn money. Ancillary services refers to specialty, "outside the box" services and functions that support the continuous flow of electricity on the grid, ensuring that supply can always meet demand. Just as a traditional power plant gets paid to provide reliable electricity, ancillary service providers can earn money through the market.
Over the past two years, EDF introduced and explained this concept to Vornado, and Johnson Controls (JCI) was identified as the ideal vendor partner. EDF helped work out the technical details, like determining the correct capacity and placement of the battery, while JCI incorporated its lithium-ion battery technology into the Mart's controls and software. The result will now provide the commercial real estate industry with a real-life example of the technology at work.
In coordination with other clean energy resources like demand response, the battery will also demonstrate the potential to significantly cut down total electricity costs. Demand response is a cost-effective tool that rewards people and businesses for conserving energy when the grid needs it most. The Mart has relied on JCI's demand response programs for years to generate energy savings which, coupled with the new revenue from energy storage, has the potential to reduce the amount a commercial building spends on electricity each year by more than a third.
With an eye toward the future, these innovative, money-saving clean energy efforts have not gone unnoticed. Forward-thinking companies like Motorola and ConAgra have joined younger, web-focused businesses like Yelp to make the Merchandise Mart their Chicago home – further proof that this celebrated landmark is getting better (and smarter!) with age.