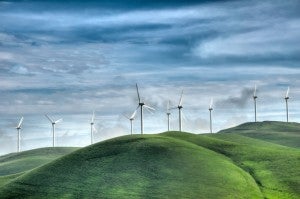 The Paris climate negotiations can set the stage for a global shift on climate change – when our world's emissions finally stop rising, level off, and begin to fall.
There is reason to be optimistic: from China to the United States, from Europe to South Asia, countries are coming together with commitments to cut climate pollution. And so are cities, companies, investors, entrepreneurs – and even moms. That's real momentum that could open a new era for how we make and use energy.
The real action starts after we all go home from Paris with the biggest question coming out of COP-21: Now what? I want to share three specific ideas for the future – ideas that could accelerate access to clean energy.
First, the biggest barriers today lie in how to deploy the technology we have or will soon have.  Solar panels, "smart" buildings, electric cars – the cost of these technologies is on its way down. Yet we still face problems of scale, because barriers in policy and finance limit the ability of clean technologies to deploy in ways accessible to everyone.
In the United States, the National Renewable Energy Laboratory (NREL) thinks we can run 80 percent of the country on clean electricity by 2050 with technology that exists today. To get there, we need to clear away thickets of outdated regulations and establish a path for smart, clean technology to scale up.
But how will we finance the transition to clean energy? Will the rules of our electricity markets make it easy to plug in renewables at a massive scale? What is the role of utilities going forward, in a world where clean energy technology requires managing a network of many players? These are some of the questions we need to address in short order to begin overcoming policy and finance obstacles.
Second, the transition to clean energy requires a fundamental change in the regulatory structure of electricity. We need to change the electric grid from a narrow, one-way street to a two-way highway, so that it performs more like the Internet – managing vast amounts of energy and information in ways that deliver more and cost less. This new structure will reward people for shifting their energy usage to the least polluting times of day when renewables are abundant, and welcome millions of solar panels, wind turbines, and ultra-efficient buildings into a reliable web of affordable electricity.
Just like our iPhones are platforms for app developers creating all kinds of services we could not have imagined a decade ago, so can electricity regulation support participation by intermittent renewables, smart data tech, and energy management programs that generate energy savings.
This kind of change occurs largely at the sub-national level. For the most part, in the U.S., it happens at public service commissions in every state, framed by some key federal actions. The exciting news is there are a few places where this change is moving forward at full speed.
[Tweet "3 ideas that could shape our world after the Paris #climate negotiations."]
In New York, for example, the governor has set in motion New York REV – Reforming the Energy Vision – to boldly rethink how electricity is made, moved, used, and valued. It's tackling questions of utility business models, access to data, and the interconnection of distributed energy resources, like rooftop solar and microgrids.
It is one of the few places in the U.S. where the whole model is being reimagined all at once – and where decision makers are engaging various players, from policy to business to finance. Policy innovation like this is also happening in California, the United Kingdom, Germany, Spain, and in parts of Asia.
This innovation is predominately taking place inside national or sub-national silos and could progress a lot faster with collaboration. At EDF we are trying to build that collaboration around the most important barriers and the common problems we all need to solve in order to create a platform for clean energy technology to become widely accessible.
Third, we need to unleash the power of capital markets to help finance the transition to clean energy in both developed and developing economies. Europe recently released a report stating it cannot meet its climate targets without a five-fold increase in investment to renovate buildings. They are looking for around a hundred billion Euros a year in investment, and that's just for Europe.
Frankly, there is no way that scale of investment will come from the public sector, from taxpayers, or electricity customers alone. Meaning, we need to activate capital markets and investors in new ways, too.
EDF launched the Investor Confidence Project, which looks to do just that for energy efficiency. Basically, the idea is to standardize energy efficiency renovation projects in the U.S. and Europe, to increase confidence in the financial and environmental performance of the projects, and to make it possible to invest in them not just one by one, but at portfolio scale. The basic system is in place in the U.S. and has just launched in Europe.
If we can unleash the potential of clean energy technology and energy efficiency, I believe it will be possible to turn the corner on climate change. But that will require innovation in policy and in finance at a scale equal to the innovation already happening in technology. I am hopeful Paris will create the motivation necessary to get it done.
This post originally appeared on Forbes.