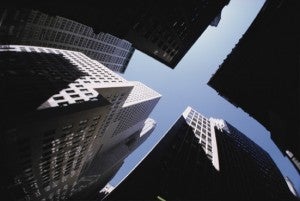 By: Jeff Milum, Director of Market Development, Investor Confidence Project 
40 percent of all energy in the U.S. is used by buildings, which also accounts for one-third of our country's greenhouse gases emissions. This represents a huge opportunity, both for climate action and financial gain.
There's just one problem: Project developers often have trouble finding financing for projects, even though investors who are looking to finance building efficiency upgrades are in need of more quality projects. This conundrum is increasingly apparent as more mainstream investors are entering the energy efficiency sector searching for investments with consistent, long-term yields, as well as "green" attributes.
That's why Environmental Defense Fund's Investor Confidence Project (ICP) is proud to announce the launch of the ICP Investor Network. By connecting investors who are seeking quality projects with trained and vetted project developers who are originating certified ICP-certified energy efficiency projects, ICP is working to help close this gap.
EDF's Investor Confidence Project creates certified Investor Ready Energy Efficiency™ projects that make investing in what are often complex efficiency project easy for building owners, and finance firms alike. Investor Ready Energy Efficiency™ projects have been reviewed by an independent engineer to have followed ICP Protocols for quality project development and have provided consistent documentation for each step in the process. By certifying projects against an industry standard, ICP reduces transaction costs and increases confidence in savings in order to help engage private capital and scale up energy efficiency investments globally.
Members of the new ICP Investor Network see the value that ICP provides to their investments in energy efficiency projects and to the evolution of the industry as a whole. In joining the network, they are committing to recommending the use of the ICP Protocols and Credentialing System as best practices when developing energy efficiency projects. Additionally, the majority of Investor Network members are validating the value ICP provides by offering incentives such as accelerated underwriting, reduced transaction fees, and preferable terms for Investor Ready Energy Efficiency™ projects.
[Tweet "New network aims to 'close the gap' on #energyefficiency financing"]
Members of the Investor Network make up around $1B in financing for energy efficiency projects collectively and are comprised of a wide range of financial services firms including lenders, equity providers, project insurance providers, and energy services. Charter members include:
A number of these providers have chosen to offer additional incentives for ICP-certified  projects, such as expedited underwriting and preferable terms, in recognition that standardized projects are more reliable, easier to underwrite, and better investments.
The Investor Network complements ICP's Protocols and Credentialing System and is a critical link in ICP's plan to increase the industry's project deal flow through a managed ecosystem of energy efficiency providers. While driving more deal flow is ICP's near term goal, the Investor Network is expected to play a pivotal role in a more long-term strategy to create a standardized asset-class of energy efficiency projects to enable market transformation.
By removing the uncertainty surrounding investment in energy efficiency, ICP benefits not only investors but also building owners and society at large by reducing carbon emissions. EDF is excited about the potential of ICP to transform the energy efficiency market and looks forward to seeing the realization of its numerous benefits.
Interested investors can find more details on ICP's website here. To get in touch with any of the Investor Confidence Project's Investor Network members about funding for energy efficiency projects, contact info@eeperformance.org.
Photo source: Wikimedia Commons/Josh Goodman