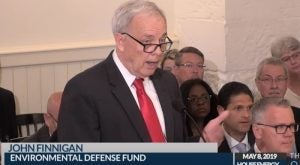 FirstEnergy's bailout bill (H.B. 6) – which would subsidize its uneconomic power plants and destroy state programs that encourage energy efficiency and clean energy – received a hearing in the Ohio House of Representatives last week. Two supporters testified (including FirstEnergy). Seventy three opponents testified.
You can find full transcripts of the testimony here.
But if you don't want to wade through all of the testimony, we've pulled some of the best comments from the diverse opponents consisting of conservatives, manufacturers and environmentalists.