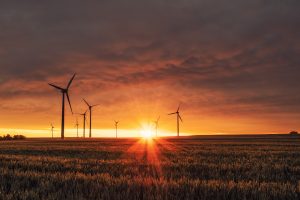 Last month, Facebook announced its new $750 million data center will be located in New Albany, Ohio, just north of Columbus.
Why did the social media giant choose this particular spot? Apparently, Facebook likes clean energy, stating, "The availability of renewable energy sources, including wind, solar and hydro, was critical to the decision."
And Facebook isn't clean energy's only fan in Ohio. A new poll from The Nature Conservancy (TNC) shows that voters in the Buckeye State overwhelmingly support developing more clean energy – like efficiency, solar, and wind – over more traditional resources, like coal and natural gas. And perhaps surprisingly, even voters in coal country are on board, saying policies that promote renewable energy will benefit the state's economy.
Encouraging results
Conducted by Public Opinion Strategies, the nation's largest Republican polling firm, the TNC poll reveals strong statewide support for increasing the use of efficiency and renewable energy. When asked whether "as a state, Ohio should put more emphasis, less, emphasis, or about the same emphasis as it does now on producing domestic energy from each of the following sources," voters vastly preferred the clean electricity options. The chart below displays the responses.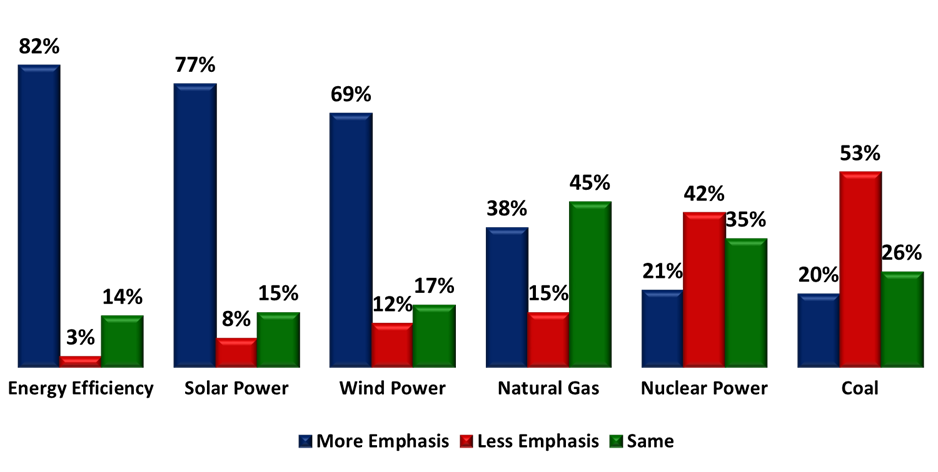 In Southeast Ohio, where coal customarily played a role in local economies, three-quarters of voters would like to see more efficiency and over half would like more of the state's electricity to come from wind and solar. Moreover, over a quarter of Southeast Ohio voters prefer less emphasis placed on coal. And four-in-five voters in this region would like their elected officials to support policies that promote renewable energy.
Where policy differs
Clearly, Ohio voters recognize the economic benefits – like jobs and investment – that clean energy brings. According to TNC, "Poll respondents agree that state policies promoting renewable energy development in Ohio sends a clear message to investors that we are open for business."
Voters across Ohio want their lives to run on more clean energy and less coal.
Yet, some state leaders want to halt the growth of renewables and energy efficiency. Last year, Ohio's legislature tried to pass a bill that would have weakened the state's clean energy standards and blocked investment. Fortunately, Governor John Kasich stepped in and vetoed the bill, vowing to protect jobs and the economy. Specifically, he was thinking of large tech firms – like Amazon and Google – who value operating on clean electricity. Facebook's decision to locate its new renewable-powered data center in Ohio shows that Kasich was spot on.
Despite last year's defeat, state lawmakers introduced legislation in early 2017 to weaken the clean energy standards – again. The bill passed the House and may be taken up in the Senate in the fall.
Voters across Ohio want their lives to run on more clean energy and less coal, and recognize this move will enhance the state's economy. And by transitioning to low-carbon efficiency, wind, and solar, Ohioans will breathe cleaner air and live longer, healthier lives. We hope state legislators will follow Gov. Kasich's lead and reject efforts to block clean energy growth. Why not give Ohioans what they want?
Photo credit: Karsten Wurth