The most common causes of lead poisoning in children in the US are lead-based paint and contaminated dust, which are mainly found in older housing. When present, lead pipes also present the single largest source of lead exposure through water. In Rhode Island, an estimated 80% of the housing was built before 1978, meaning it's more likely to have lead-based paint hazards and lead pipes and put families, especially children, living in the homes at risk.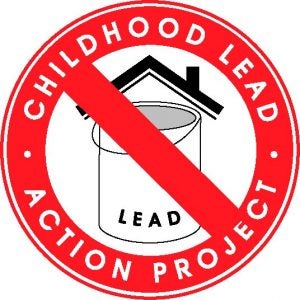 The Childhood Lead Action Project was founded in 1992 to take on this challenge, with the mission of eliminating childhood lead poisoning in Rhode Island through education, parent support, and advocacy. The organization does it all: workshops and educational outreach for a wide range of audiences, municipal and state-level advocacy to push proactive policies, grassroots campaigning, and more.
I sat down with Laura Brion, who started as a community organizer with the Childhood Lead Action Project and is now the Executive Director, to learn about her journey into the lead poisoning prevention world and what she sees ahead for her organization's and community's fight.   
This interview has been edited for clarity and brevity. 
Sam Lovell: How did you get started in advocacy and community organizing work on lead? 
Laura Brion: Lead was one of the first examples of environmental injustice that became real to me. This was first in the classroom setting in college by having the invisible toxins around me and the consequences of them made visible through charts, maps and readings. But what really inspired me to dedicate 15 years of my life to this was getting involved in local activism in Providence, Rhode Island and meeting residents and organizers who had not had the privilege that I did to have the issue of lead be invisible for so long. 
Some of these organizers had not learned about lead in the classroom, but from a phone call telling them they needed to bring their child to the hospital because he or she had serious lead poisoning. These parents became strong leaders that had come up with really effective, creative ways to start tackling this challenge. 
I came into this work thinking that lobbying to change laws might be the best way to help lots of people, and I soon learned that lobbying is just one tactic and legislative change is just one level to work on. I started to see more systems and targets needing action everywhere I looked. I learned about a much broader range of tactics that can be effective for organizing, and that it's all about defining your goals as clearly as possible and figuring out what the right tool (or set of tools) for the job is. Having a solid strategy developed by a group of people who don't limit their perspective to what they've been told they should do, or – especially – what you're allowed to do – is everything.
SL: What types of early campaigns were you involved in on lead poisoning prevention?
LB: A large part of my work that has spanned my time here has been at a local level, focused on making sure that one of our biggest legislative victories means something in reality. About 15 years ago the Childhood Lead Action Project and others succeeded in getting the legislature to pass a state law that required most rental properties built before 1978 to meet a basic level of lead safety as shown by a lead safety certificate that has to get renewed every two years. 
Unfortunately, as we all know, sometimes laws just sit and gather dust unless someone is out there putting it into practice. And despite the fact that it was an enforceable law, until we ran a campaign to convince the biggest city in Rhode Island to start enforcing this, nobody in the state ever got in trouble for not following it. 
We now run regular enforcement coordination meetings in high priority cities in the state where we bring together enforcement officials, state officials, and funders of lead abatement. Our role is to be the spark that keeps everything moving, help out with the logistics and make sure community members can provide input.
SL: Are there certain campaigns you are particularly proud of?
LB: I led a campaign with and for locally resettled refugees that was very tough but very gratifying to work on. There's already a rule in place requiring that refugees be given lead-safe housing upon arrival in the US, but we knew that a lot of refugee families weren't actually receiving this, in reality. One of the very last children to die of lead poisoning in the country was actually a refugee child in Manchester, New Hampshire that we could absolutely imagine being right here in Providence.
Due to dedication from many people and especially the determination of the people who had personally gone through the refugee resettlement process who got involved in this work and were the leaders of that alongside me, we were able to make progress to get increased resources and changed policies.
SL: How did you start working on lead in water? 
LB: About 10 years ago, a friend of mine saw a flyer inviting people to a community meeting to talk about potentially dangerous lead pipe replacement that had been planned for the neighborhood. I was already working on lead poisoning and I had no idea this was happening in my own neighborhood. 
I learned that lead pipe replacements had been planned because our water authority exceeded the Environmental Protection Agency standard for lead in water and had to get a certain percentage of the pipes out. However, the water authority was only planning to replace a portion of the lead pipe that carried water from the water main to our houses and they were "generously offering" residents to pay to get our portions replaced for several thousand dollars. I had just learned recently about how these partial lead service line replacements can actually increase lead exposure in the short and long term.  
I banded together with the guy who had noticed this and we started a campaign to convince the water authority to give us what we deserve: free full lead service line replacements. We quickly realized we were up against a badly outdated federal rule – the Lead and Copper Rule – and the glacial timeline that changes to federal regulation happen.
We explored legal and other tactics we could take, but the partial replacements were about to begin. At one meeting, my co-organizer said, "We just need to take direct action. We need to go out and block them in the street." We tipped off the water authority and tipped off the press. As it turned out, we got word back at the very last second that they were very happy to cancel work for the day. So, there was not a grand showdown of me sitting down in front of a truck. 
It turned out that they were able to cancel the entire project for our neighborhood, but they wanted to just shift the work to another neighborhood. So, we ran another street blockade. By the end, they had announced a one-year moratorium on the partial program, and we won that several years in a row. This obviously wasn't our final goal, but it was a short-term win, and we are still, now, pushing for that goal of free, full lead service line replacements for everyone. 
SL: What are some of the lessons you've learned through this work? 
LB: Organizing and education need to go hand in hand. I was reading through some old notes from our founding Executive Director, Roberta Hazen Aaronson, and she was quoted as saying, "You can educate without organizing, but you can't organize without educating." 
For me that really makes sense: there needs to be an educational component to trying to move an advocacy goal forward. But you can make the mistake of trying to tell people about a problem without actually doing anything to change the conditions that are causing that problem for them. 
SL: What do you see as the goals moving forward for the Childhood Lead Action Project?
LB: Our goals and our timelines that we're trying to achieve those goals are as big and as urgent as they ever were before: We want to see every family guaranteed a lead safe place to live and raise their kids, a lead safe place for their kids to learn and play and grow and for people to work. We have policies we're working on right now that we know can result in that. 
We're also looking at a lot of funding on the federal level that may be available in the short term to – if not fully achieve these goals – significantly move them forward. We're looking at a window of opportunity that is unlike anything we've seen in a decade. It must be seized, and it must be seized in a way that meets the needs of environmental justice communities most impacted by this problem.
Learn more about the Childhood Lead Action Project's work by following them on Twitter and Facebook.