Sam Lovell, Communications Manager. 
"How many of you know, when you send your child to school, the fountain they're drinking out of is not fed by a lead pipe?"
That stark question was posed by President Biden in a briefing following the announcement of the American Jobs Plan. The President's historic infrastructure package includes $45 billion to fully replace lead pipes across the country. This has caused a surge of attention nationally on the problem of lead pipes, as administration officials and members of Congress voice support of the plan and local media outlets report on the implications of the investment.
And this attention is well-placed: across the country, an estimated 9.2 million lead service lines still provide water to US homes – putting children at risk of lead exposure and permanent harm to their brain development. While this has been an issue for far too long, this recent momentum – with the inclusion of funding in the American Jobs Plan and in several bills moving in both the House of Representatives and the Senate – is a promising sign that action is near.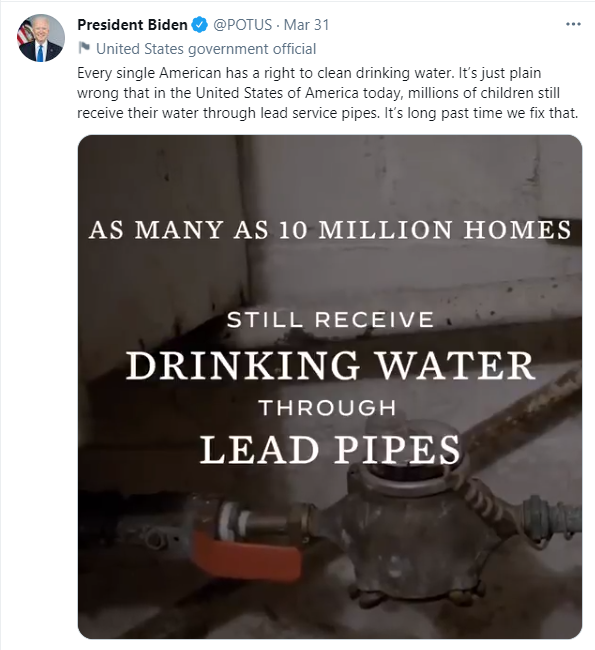 President Biden put it simply in a tweet: "Every single American has a right to clean drinking water. It's just plain wrong that in the United States of America today, millions of children still receive their water through lead service pipes. It's long past time we fix that."
Dozens of others, including Vice-President Kamala Harris, the official White House account, Speaker Nancy Pelosi, EPA  Administrator Michael Regan, Secretary of Energy Jennifer Granholm, Senators Tammy Duckworth, Jeff Merkley, and Dick Durbin and Representatives Val Demings, Brenda Lawrence, Tim Ryan, Ro Khanna, and others have also tweeted out support of the lead pipe replacement funding in the plan.
In an interview, Secretary Pete Buttigieg said "we believe that pipes are infrastructure, because you need water to live, and too many families now live with the threat of lead poisoning." Senator Debbie Stabenow explained, "as somebody who represents Flint, Michigan, when I see in that plan that their proposal is to eliminate all lead pipes in that infrastructure, like what has poisoned 100,000 people in Flint, it can't happen fast enough for us."
Across the country, editorials and op-eds in local media outlets in Buffalo, Pittsburgh, Chicago, Des Moines, Duluth, among others have described how funding lead pipe replacement would help their communities.
"With Biden's commitment and federal funding, Chicago ought to be able to…complete the lead pipe replacement program ahead of schedule, bringing safe, clean and reliable water to all residents, regardless of zip code," wrote Mariyana Spyropoulos in the Chicago Sun-Times. This hopeful vision could actually be realized in Chicago, the city with the most lead pipes in the nation, as well as other communities across the country with this funding.
While tweets, remarks, and media articles are certainly not definitive barometers of progress, the attention on the problem of lead pipes and the benefits of funding replacement is meaningful. As Congress moves forward on infrastructure priorities, funding lead pipe replacement must be an essential part of that work.
Fully replacing lead pipes across the country will protect health, reduce inequities, create jobs, and permanently upgrade our water infrastructure. And – as EDF has previously described – this initiative is broadly supported across party lines, regions of the US, and in rural areas and cities alike. It's time to get the lead out.