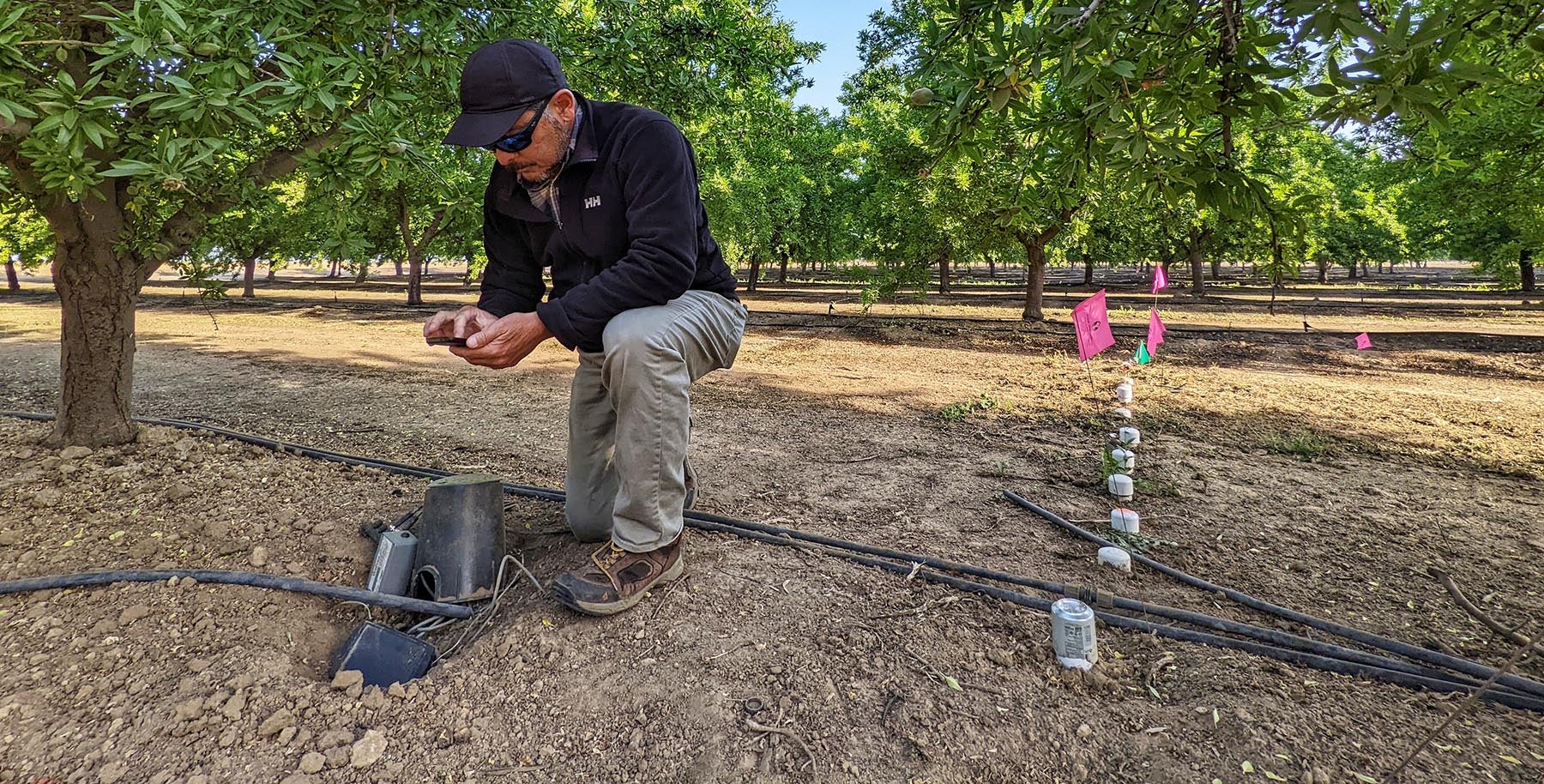 Joseph Gallegos' interest in water and climate change began as a hobby after he retired as a telecom executive during the 2015 drought. Tired of watching his lawn go brown, Joseph decided to build a system to take water use by his washing machine and deliver it to his lawn, since no such product existed at the time.
His solution took off and is now available at Lowe's under the brand Grey4Green, a company Joseph founded that aims to promote water and climate resilience through innovation and community outreach. In 2019, Joseph started working on another system to substantially reduce water use on farms, which is called the aquifer pipe.
I first learned about Joseph's innovative and entrepreneurial drive when planning for the next cohort of the Leadership Institute, a program he participated in last year facilitated by the Environmental Defense Fund and Rural Community Assistance Corporation. The institute builds capacity and leadership skills so members of disadvantaged and underrepresented communities can more effectively engage in water decision-making and help develop equitable, long-lasting water solutions.
After gaining so much from the Leadership Institute, Joseph has been working with EDF and RCAC to bring the institute to the Tule Subbasin this summer.
Joseph's inspiring experience working on water challenges in disadvantaged areas illustrates the talent and creativity such communities can bring to help develop effective, durable solutions. That's why he is the perfect person to kick off a new series of profiles of Leadership Institute alumni that we will feature in EDF's On the Water Front blog. Here are some highlights from my interview with him:
You live and work in Pixley, Turlock and Long Beach. What water challenges are you addressing in those communities?
My home base is the Pixley area, where I focus on agricultural water issues. That also crosses over with residential needs because as the water table drops from groundwater pumping, wells go dry, and that affects individuals. The big goal is to stop and reverse this groundwater overdraft. Our work also touches on water quality by reducing nitrate use and cleaning arsenic from agriculture water before applying it to crops. Turlock, Fresno and Riverside are research extensions of our ag business.
I have also performed research in the Long Beach area for urban water issues.
In urban areas, we don't think of water as just water, but as an enabler to cool a building or to grow trees to shade a house. Some communities don't have disposable income for air conditioning units, so water is a path to creating microclimates to reduce heat using natural tree shading.
My work is not so much a business but a way to empower people to do things on their own.
How did you start working on agricultural water issues?
An almond farmer I met by chance when installing an urban orchard greywater system started asking me a lot of questions. The farmer concluded he could reduce applied water by 20% with our pipe, but the diameter needed to be larger to meet orchard-sized water demands. So, we applied for and won a $140,000 grant from SC Johnson, which makes the Ziploc bags, to build a larger pipe to irrigate orchards in a new way, different from sprinklers and drip irrigation. Our aquifer pipe is buried below the ground at the root level, to deliver water more efficiently where it is needed the most.
That's when I met Donny Hicks, another Leadership Institute graduate. Donny is what you would call an innovative farmer, a trendsetter willing to try new farming processes. We installed the pipe in his orchard. We thought we would get 20% water savings, and we got about 80% water savings. That means as he adopts this technology, he will not need to bring in surface water and can reduce groundwater pumping.
That got me interested in the bigger picture with the San Joaquin Valley and how to get people to think about water conservation. Conservation has reached its limits with drip irrigation, and we'll have to retire land if drip is our only means of irrigating farms. But that means thousands of people will lose jobs and the economy will lose billions of dollars.
What if we can show farmers we don't really need that much water?
And so that problem is what we are solving — how do we continue to grow the efficiency and capacity of water and how do we teach people about innovation?
Water scarcity is a community problem, and it is going to take new teams of leaders and activists to solve. The Leadership Institute program is a great place to start finding your niche with a community team to solve local water scarcity.
Why did you decide to participate in the Leadership Institute?
I wanted to better understand the agricultural community so that I could approach them about not just our solutions to manage water but other innovations out there, too. I knew I needed to get more engaged not only in a commercial sense but also in a social sense.
The problem of water scarcity has many stakeholders, influencers and embedded beliefs. I needed new leadership tools to understand a broader swath of community engagement and the different roles of community activists around water.
That was what drove me to participate in the Leadership Institute.