Many regions in California are embarking on a new era of water and land management strategies as local agencies implement sustainability initiatives and climate change intensifies droughts and water scarcity.
However, too often low-income rural communities have had little opportunity to influence land and water decisions that directly impact — and often harm — them, resulting in such outcomes as wells drying up and limited access to parks.
California's new Multibenefit Land Repurposing Program aims to ensure these communities as well as small-scale farmers are more involved in land and water use planning by making their engagement a requirement for funding recipients.
To support this effort, EDF collaborated with University of California, Merced, Ph.D. candidate Vicky Espinoza on a new guide,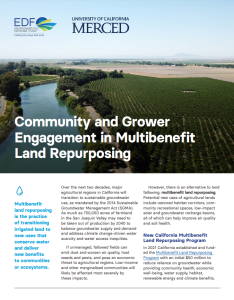 Community and Grower Engagement in Multibenefit Land Repurposing, that outlines best practices for meaningfully engaging community members and small-scale growers in land repurposing plans and projects.
The publication of the guide comes as the April 1 deadline approaches for the first round of applications to the state's new Multibenefit Land Repurposing Program.
How the new land repurposing program will work
California is the first state in the nation to address the significant transition in land use that will happen to adapt to water scarcity supercharged by climate change. In late 2021, Gov. Gavin Newsom signed legislation that created the Multibenefit Land Repurposing Program to provide farmers with options to voluntarily repurpose farmland that can no longer be irrigated due to groundwater conservation to other uses that deliver new benefits for people and ecosystems, including wildlife habitat, parks and low-impact solar projects.
"Marginalized communities and farmers deserve to have a voice in their future. Codeveloping approaches to land repurposing can not only result in drought resilience but can also undo longstanding socioeconomic and environmental inequities in our communities."
—Vicky Espinoza, Ph.D. Candidate, UC Merced
The program will award block grants to local agencies, tribes and local nonprofits and provide incentive payments to landowners who repurpose some of their fields to these new uses.
Grant recipients must develop a regional agricultural land repurposing plan and strategically distribute funding for land repurposing projects. To ensure the plans reflect diverse stakeholder priorities and preferences, the grant recipients must also meaningfully engage low-income communities and socially disadvantaged farmers and ranchers.
New guide shares UC Merced survey results and lessons learned
The guide created by UC Merced and EDF provides best practices and recommendations on community engagement specifically for applicants to the state's new land repurposing program. The guide is based on two elements of Espinoza's research: 1) creating tools to share information on sustainable groundwater management with rural disadvantaged communities and 2) gathering input from impacted communities to better understand their priorities.
In 2021, Espinoza and colleagues at UC Merced conducted a text message-based survey of San Joaquin Valley residents to hear directly from community members about which alternative land uses would be most valuable to them.
Espinoza also created a YouTube channel CaliWaterAg with videos in English, Spanish and Hmong that provide information about California's Sustainable Groundwater Management Act and potential land use changes that may occur as regions balance their groundwater supply and use. Those videos provided a foundation for bilingual community workshops she co-hosted with EDF in January.
UC Merced's research builds on decades of knowledge developed by communities and organizations who have advocated for greater stakeholder engagement in water and land use decision-making.
The new guide produced by UC Merced and EDF provides links to additional resources on community engagement developed by several of these organizations, including CivicWell, Community Water Center, Clean Water Action, and the Union of Concerned Scientists. The guide also features a short case study of an emerging land repurposing project in Madera County that will make community wells more reliable through groundwater recharge.
Our hope is that the new engagement guide will help water managers and land use planners work more effectively with communities to develop multibenefit projects like the Madera County example that both benefit community members and help achieve groundwater sustainability goals.