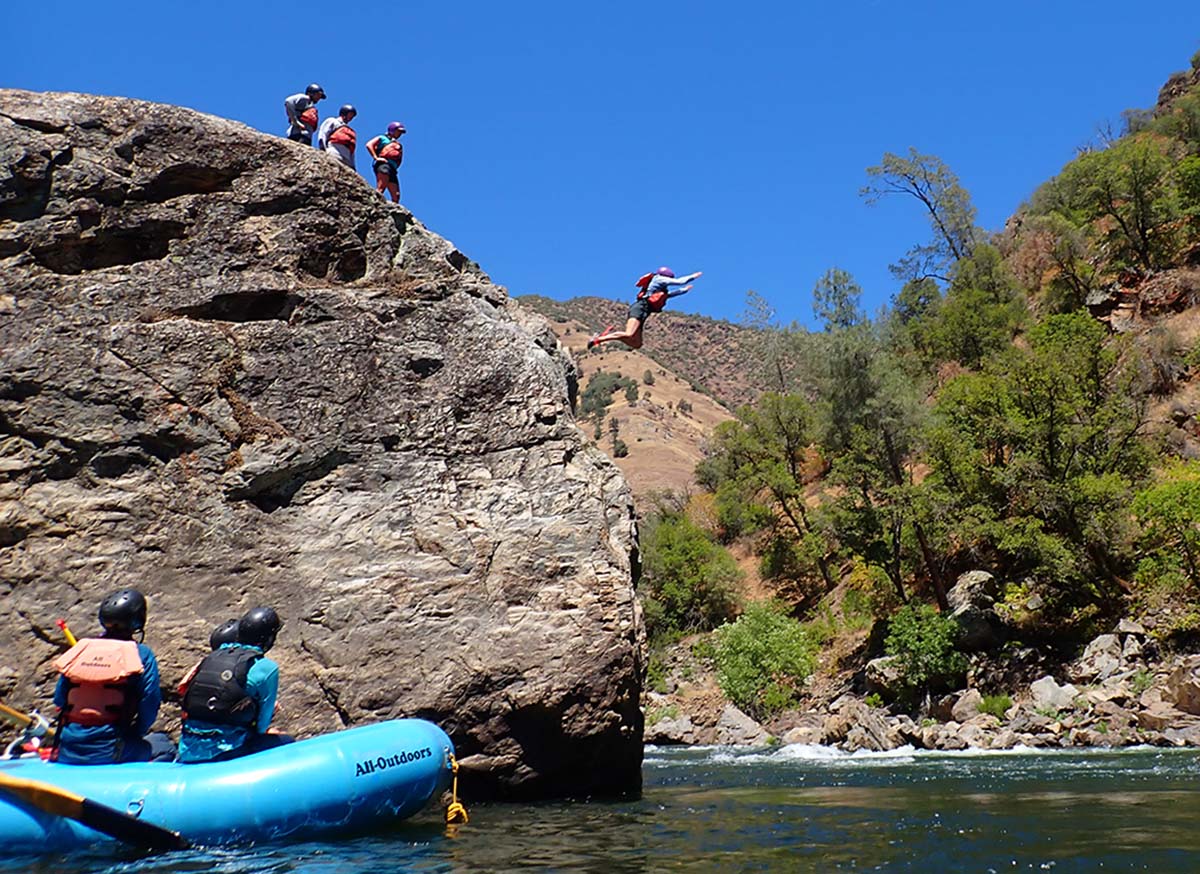 This blog is co-authored by Joshua Viers, Professor and Program Director, Secure Water Future, University of California, Merced
There we were, 19 of us on the stony shore of the Tuolumne River, feeling a bit stranded like the crew of Gilligan's Island.
Our "Finding Common Water" rafting excursion was planned around "no water Wednesday," when river releases are held back for water conservation and infrastructure maintenance. The trip's goal: Get off our desk chairs and onto rafts, out of the ordinary and into an extraordinary setting — a hot, highly regulated, wild and scenic river —  to push us out of our comfort zone and get to work on addressing real water problems.
Working with All-Outdoors whitewater expeditions, EDF and UC Merced teamed up to create the trip. Our premise was that paddling a raft together — and yanking each other back into the boats by our life vests — can build camaraderie and help find areas of agreement in ways that Zoom meetings just can't.
This group of strange streambed-fellows, all with a stake and expertise in California water, represented a range of perspectives, including environmental and environmental justice interests, academia, agriculture, and federal and local water agencies. Supported by EDF and UC Merced's Secure Water Future (SWF) program, trip participants allowed themselves to be vulnerable, express fears and hopes, and make real commitments to find areas of agreement that we could pursue long after we got off the river and back to our desks.
While we only had a few days on the river, it was nonetheless a powerful example of how a change of environment can help create better understanding among sometimes conflicting interests and bring them closer to common ground – which is going to be essential on a much larger scale if we want to make progress on California's daunting water challenges. We would like to share some highlights and commitments from discussions on three themes: dreams and nightmares for the future of California water; creating more resilient water-land use connections; and environmental justice.
Balancing California's biggest water nightmares with hopes for a more resilient water future
The question of how to manage some of California water's biggest nightmares came up on the first night around the campfire. Some lamented irrepressible climate change and unpredictable rainfall patterns; others were concerned about policy changes and regulations, or the lack thereof, and the slow pace of decision-making leading to collapse. And some spoke about their great concerns for the land, the future, their legacies, their communities and their families.
Amidst the nightmares were hopes and dreams for what could be done through collaboration, shared values and innovation. Some commented on the capacity to make great change through smaller, incremental steps, and others said their hope had been built through prior successes and relationships like these, where everyone is willing to take some risks and try new things. As one participant said, "We need the courage to make the difficult decisions."
There was broad agreement on the need for more dialogue and collaboration to develop holistic and durable water solutions. The long, protracted issue of San Francisco Bay-Delta restoration to support healthy ecosystems and reliable water supplies for cities and farms was one example in which participants believe there is room for better understanding the range of perspectives and exploring opportunities for creativity and innovation. Many committed to continue the exploration off the river through one-on-one engagement as well as larger cross-sector gatherings.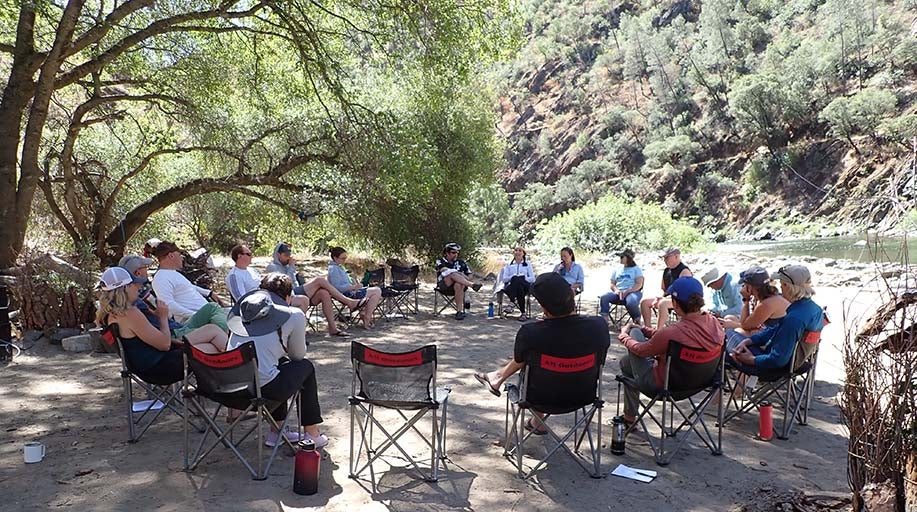 Recognizing the importance of how land and water are bound together
On our trip, we also experienced firsthand how water and land are inextricably connected, how, for example, habitat alongside a river changes with river levels. The group discussed how water-land use connections will deepen as the state faces its first significant drought in the age of the Sustainable Groundwater Management Act, and how agricultural landscapes are likely to change as a result.
"The river rafting trip allowed me to connect with the environment and people who at times have very different priorities from me but in the end are working towards a similar outcome," said Sarah Woolf, a member of a Fresno County farm family. "I am grateful for the experience and new friendships I was able to develop."
Ensuring that the transition to sustainable groundwater management avoids turning the Central Valley into a dust bowl and instead happens strategically with broad stakeholder engagement underpins the state's new Multibenefit Land Repurposing Program, another topic of discussion. Numerous participants committed to advocating for more state funding for the oversubscribed program  to meet demand from local communities throughout the Central Valley. We committed to ensuring there is sufficient funding so local communities have enough resources and staff to engage stakeholders to develop a regional land repurposing strategy that incorporates local needs and values. Participants also committed to spreading the word about the program to landowners and sharing feedback.
Making firm commitments to environmental justice
We also discussed how to advance environmental justice and water equity by first reflecting on what water equity and justice mean to each of us. It means engagement and trust, creating conditions where frontline communities not only participate in meetings but where information and processes are clear and accessible. It means addressing structural poverty and inequities that keep small, rural communities across the Central Valley from having access to safe drinking water, open space, recreation and safety.
Moving forward, we committed to making drinking water security for all an immediate political priority, and we agreed on the importance of expanding local capacity so communities can access available public funding. One idea that surfaced was creating a one-year program for UC Merced graduates to use their technical skills and work on water and environmental justice projects co-shaped by local communities.
One rafter, Ric Ortega, general manager of Grassland Water District, was moved by the discussion to make his own professional commitment. "I want to do more than just meet the legal requirement of public outreach," Ric said. "I will more substantively engage the communities surrounding the Grassland Ecological Area in both environmental education and decision-making."
Finally, we committed to working together to create new opportunities for community leaders, leaders of community-based organizations and Tribal representatives to connect on water issues with one another on the banks of our beautiful rivers through future trips like this.
Depending on each other to paddle down the river can help build the trust necessary to create the space for shared dialogue, and in turn to make the leap to collectively change the way water is valued and managed in our state. Being on the river vividly reminds us how we all depend on California rivers — and each other — to thrive.