The USDA today released a new scientific assessment at the United Nations negotiations in Paris that found climate change will pose a significant threat to food security and to farmers.
National Public Radio's Dan Charles said it best in his latest story:
"Chances are, you've picked up some chatter about the new global talks on climate change. If you can't quite see how it matters to you, personally, you might want to take a peek inside your pantry. Or your candy jar. Because it might just affect your access to everything from cheese to chocolate."
Today's report represents an urgent call to action for food companies, policymakers and agribusinesses to collaborate in reducing emissions from food production and implementing farming practices that increase resilience.
We have the tools at our disposal to make sustainable agriculture a reality. But to implement these measures at scale, we need increased investment from the private sector and collaboration across the agricultural supply chain. We need to go beyond commitments and towards on-the-ground support for farmers.
Challenges on the horizon
The risk that climate change poses to farmers, especially in developing countries, is unprecedented. The report's findings note that if we continue with business as usual, climate change will:
Threaten food security and food safety.
Dramatically reduce yields – by 2020, yields will drop substantially for corn, soybeans, rice, sorghum, cotton, and oats.
Disrupt global food production with price fluctuations and trade-related challenges such as transportation and infrastructure.
Cause the number of people at risk of undernourishment to increase by 175 million people over the next 65 years.
But the effects of climate change are already here. Climate change has for example reduced yield increases for world grain farmers by 2.5 percent since 2000. That's why we can't wait to make changes and implement a more sustainable and resilient food system.
Opportunities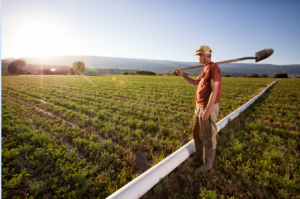 When I think of innovation, resiliency, and adaptation, I think of farmers.  And as the USDA noted, "The agricultural sector has a strong record of adapting to changing conditions." That's why I'm confident that farmers, food companies, and policymakers will embrace the unprecedented opportunities at our fingertips. The report finds:
Identifying the biggest vulnerabilities in agriculture will allow policymakers to target support where it is needed most.
Ensuring that farms are able to adapt to climate change will reduce the risk of disruptions to the food system.
Reducing food waste will reduce the risk of food insecurity.
Fertilizer efficiency and soil health measures such as cover crops can also mean cost-savings and yield benefits for farmers – a win-win for growers and the planet. Farmers can also start participating in agricultural carbon markets, where they are rewarded for implementing conservation practices.
But to turn these opportunities into action, we need the private sector to do more than make statements on sustainability. Food companies need to invest in research and technology that supports sustainable crop production, measure emissions from their entire supply chains to better understand vulnerabilities, and collaborate with the public sector to ensure food security and the environmental health in the future.
Related content
Agriculture doesn't have a seat at the Paris climate talks, but we can't wait for an invitation
How the private sector can help step emissions from agriculture