Here's the challenge: we need to feed 9 billion people by 2050, yet if we continue with current farming practices agriculture could be responsible for 70 percent of the planet's greenhouse gas emissions by that same year, according to an official at the World Bank.
So what do we do?
We can't just point the finger at growers and tell them to solve the problem. This is a tall order – and it will require all hands on deck: food companies, suppliers, consumers, and producers. We all need to implement climate-smart agricultural approaches on a global scale to reduce emissions, increase resilience, and protect farmers' livelihoods.
But climate-smart agriculture absolutely cannot become mainstream without more help from the private sector. We need corporations to invest in research and to make tangible changes to their supply chains.
This month, I will join a meeting of the newly established Global Alliance for Climate-Smart Agriculture to discuss this challenge. And for the first time, the private sector –agribusinesses, insurance companies, and food retailers – will be in attendance.
Bringing corporations to the table is a step in the right direction and I'm encouraged by this development – but we need more.
Why should companies care?
A recent analysis by Accenture found that U.S. supply chains are vulnerable and have high levels of climate risk.
This means companies are much more likely to experience rising costs of supplies, if not actual disruptions to supply. So, food companies have a vested interest in making sure their supply chains are resilient and sustainable, and acting now to do so.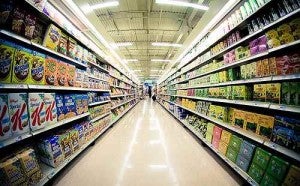 Investing in sustainable food
As a World Bank advisor recently suggested, the private sector can provide financing to support research and the development of new programs and products that increase agricultural resilience in the face of climate change.
That'll help not just the planet – but also shareholders interested in minimizing corporate risk.
Using fertilizer more efficiently
Companies can also optimize fertilizer use in their supply chains, since excess nutrients not absorbed by crops emit nitrous oxide, a greenhouse gas that is 300 times more powerful than carbon dioxide. Here are several efforts already underway that are already reducing greenhouse gas emissions from agriculture:
Walmart asked its suppliers, major food companies, to develop and implement plans for fertilizer optimization and improved soil health in their corn, wheat, and soybean supply chains. To date, 15 major food companies representing 30 percent of the North American food and beverage market have responded and  EDF is working with Walmart to make sure that real change is happening at the farm level.
General Mills, Murphy-Brown, and Unilever are also working with EDF to deploy fertilizer efficiency programs in their sourcing areas for their key commodity ingredients.
United Suppliers Inc. is developing and deploying SUSTAIN, a fertilizer optimization and soil conservation platform that will help farmers optimize fertilizer use without sacrificing yield.
Making climate-smart agriculture the norm
The UN's Food and Agriculture Organization Director-General believes that agriculture has a potentially large role to play in reducing greenhouse gas emissions and building resiliency to climate change. I agree– but we can only get there if more food companies and leaders in the private sector step up to meet this challenge.