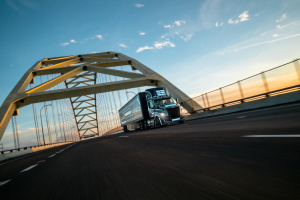 By Larissa Koehler and Casey Horan
One year ago today, 15 states and Washington D.C. took a major step toward improving the health of people and our planet by committing to work collaboratively toward decarbonizing their trucking industries. As part of this agreement, these states have vowed to ensure 100% of medium- and heavy-duty vehicles sales will be zero-emitting by 2050, with an interim goal of 30% by 2030.
The Northeast States for Coordinated Air Use Management Multi-State ZEV Action Plan demonstrates a recognition from many states that they can and should lead the charge on emissions reduction because of the associated economic, environmental and public health benefits of a zero-emissions future.
Governors from states not yet a part of this MOU should consider signing on as soon as possible if they want to help shape the implementation of this transition. Furthermore, policymakers should view the overarching goal of 100% ZEV sales by 2050 as an important first step and strive for more ambition — namely to achieve 100% MHD ZEV sales by 2040.