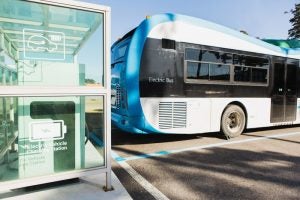 There is no question that 2020 was a hard year — for some, it was the hardest year of their lives. Yet despite the historic difficulty of 2020, there were some climate and air quality bright spots. For example, the march toward zero-emission trucks and buses is on. In 2021, we should increase our ambition.
Falling battery and vehicle prices, increased vehicle availability and a growing recognition that we must reduce climate and local air pollution from the transportation sector have sparked the transformation away from fossil fuel trucks and buses — classified as medium- and heavy-duty vehicles. In July, a coalition of 15 states and Washington D.C. committed to accelerating the transition of diesel trucks and buses to zero-emission alternatives. In so doing, they are committing to zero-emission sales targets — 30% of new truck and bus sales by 2030 and 100% by 2050.
Given that these states represent about one-third of the U.S. truck market, this commitment is a big step forward.
However, these goals do not represent the level of speed or scope needed to adequately address the significant health and climate change concerns posed by trucks and buses.
Speeding the transition
Transportation, particularly trucks and buses, make up a disproportionate percentage of emissions that contribute to climate change and threaten the well-being of local residents. In California, for example, which has long been in non-attainment of federal air quality standards, trucks and buses are the most polluting segment of the transportation sector. Fully one-third of nitrogen oxides and one-quarter of particulate matter comes from heavy-duty trucks. Similarly startling statistics hold true in New York. Despite making up less than 5% of vehicles on New York roads, medium- and heavy-duty vehicles are responsible for nearly 20% of climate-worsening carbon dioxide emissions, and diesel vehicles account for 43% of NOx emissions.
Given the significant impact of transportation — particularly for communities living near major sources of pollution — policies need to be designed to transform the truck and bus market more rapidly. We should be shooting for 100% zero-emission new truck and bus sales by 2040 and a complete overhaul of the market by 2045, similar to Gov. Newsom's recent executive order in California.
In 2021 we must set more ambitious targets for zero-emission trucks and buses
Click To Tweet
Meeting this more ambitious target is completely feasible
First, supply will certainly be able to meet demand. Zero-emission technology is evolving rapidly, and manufacturers have already shown deep commitment to transitioning their inventory. Daimler (the parent company of Freightliner Trucks, Western Star, Thomas Built Buses and other truck brands) has ambitions to build a completely carbon-neutral fleet by 2039. Volvo Group (the parent company of Mack Truck) is aiming to have 100% of its 2040 sales come from fossil-fuel free vehicles.
Second, the cost of zero-emission trucks and buses is declining. Electric short-haul vehicles, a critical piece of local and regional distribution, are expected to receive total cost of ownership parity with diesel models by 2024. Overall, zero-emission models are expected to reach TCO parity around 2030, even without subsidies, as component costs continue to decline and because annual fuel and maintenance costs are significantly lower than diesel models.
And finally, many cities and states recognize the climate and local health benefits of transitioning the truck and bus sector to zero-emission models and mitigating the existing higher up-front cost of zero-emission models. California's executive order is proof that leaders recognize the power and benefit of transforming this critical piece of our economic engine. Moreover, cities and states spend millions of dollars every year to clean up diesel pollution, targeting those funds toward zero-emission replacements rather than newer diesel replacements will help fleet owners manage the up-front capital costs of the transition.
Despite current momentum and the feasibility of a 2040 goal, local, state and federal action will be important to support the transition. In a blog series over the next few weeks, we'll be diving into several policies and initiatives that reach beyond the sticker price of zero-emission trucks and buses. This includes:
Setting ambitious standards, like California's Advanced Clean Truck rule.
Helping fleets bring down the total cost of electrification.
Integrating new electric fleets into the grid in a way that maximizes benefits to drivers, the grid and the environment.
Ensuring policies prioritize communities most impacted by harmful transportation pollution.
Designing rates that facilitate cost savings and environmental and grid benefits.
There is much work ahead of us. Last year showed us that transforming this market is not only critical to our health and climate, it's eminently doable.