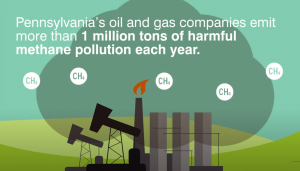 In July, Pennsylvania's Department of Environmental Protection concluded its public comment period on proposed rules to curb methane emissions from existing oil and gas facilities.
As the state weighs feedback, EDF analysis shows Pennsylvania operators emit over 1 million tons of methane annually — 16 times what they report to regulators — and underscores the need for rules that close existing loopholes to properly address this climate and public health risk.
Gov. Tom Wolf's administration has already demonstrated leadership on methane with permits to cut pollution from new oil and gas infrastructure. Now Pennsylvania has an opportunity to tackle the vast majority of its methane emissions, which come from existing oil and gas facilities.