In response to the deadly natural gas explosion in San Bruno, California, the U.S. Pipeline and Hazardous Materials Safety Administration (PHMSA) is proposing new regulations to make pipelines safer. The regulations will go a long way toward safeguarding communities from the risks of natural gas explosions, but, if they're done right, they could also protect the climate.
Natural gas is mostly methane – a potent climate pollutant, and reducing the amount of gas that leaks from pipelines also reduces emissions of methane. But there are aspects of the proposal that could result in an increase in methane emissions if proper action isn't taken. The proposed safety measures require operators to conduct more testing to ensure that pipelines can handle high pressures of gas. Before this testing begins pipeline operators have to empty the pipes by blowing gas down the pipeline. Opponents to the rule say this would create a significant increase in methane emissions, but fortunately a recent study from a leading environmental consulting firm concluded otherwise.
According to the study, methane emissions from these "blowdown" safety testing events would increase transmission and storage sector emissions by less than 0.1%.  Although the overall increase in methane emissions is relatively tiny, they can make an impact on climate. The report found that under the testing requirements in the proposed rule, emissions from unmitigated blowdowns would result in over 20,000 metric tons of methane emissions over the 15-year compliance period – creating the same short term climate damage as the emissions from more than 360,000 passenger vehicles.
Keeping emissions down
Fortunately, the study found that operators can cost-effectively reduce up to 90% of these blowdown emissions by using five basic methane mitigation strategies. These mitigation measures are widely available, and don't involve rocket science — just planning ahead.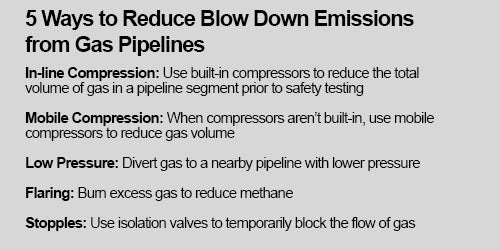 The costs of implementing these measures are marginal and are ultimately outweighed by the benefits of methane reductions. Operators save money when they reduce methane emissions because they retain a valuable product – natural gas – rather than letting it escape, and the communities and climate benefit because we aren't subjected to the negative impacts of methane emissions.
Costs, Net Costs, and Cost-effectiveness of Selected Methane Mitigation options for Blowdown Emissions
Mitigation Option
Cost
($/event)*
Net Cost (Savings) of Methane Mitigation ($/event)**
Net Cost Effectiveness

($/MT)

Interstate
Intrastate
Interstate
Intrastate
Interstate
Intrastate
Flaring
$2,665
$2,014
($163,534)
($85,826)
($1,322)
($1,313)
In-line Compression
$1,013
$710
($100,994)
($53,203)
($1,651)
($1,646)
Mobile Compressor
$13,747
$13,282
($168,534)
($83,058)
($1,556)
($1,451)
Transfer to Low Pressure
$1,309
$1,164
($114,128)
($59,847)
($1,665)
($1,652)
Stopples
$63,059
$63,059
($110,096)
($28,457)
($1,071)
($524)
The value of mitigation regarding saved gas and societal benefits outweigh costs, and potential emissions reductions are significant. Further, the testing requirements in the rule are an important part of a safer pipeline system.
Given that operators currently have an array of cost-effective choices to mitigate harmful methane emissions associated with blowdowns, a necessary part of increased pipeline safety, PHMSA's new rules should require operators to select and employ one of these highly cost-effective mitigation techniques—a step that will help protect communities and the environment.
---
Table Source: MJB&A study, adapted from Table 6 and Table 8.
*This is the cost for mitigation and does not include value of saved gas or social benefits of methane mitigation.
** This is the cost for mitigation and does include the value of saved gas and the social benefits of methane mitigation.
Photo Credit: Rennett Stowe