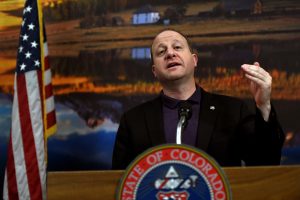 In March 2022, Colorado Gov. Jared Polis unveiled an ambitious and forward-thinking zero-emission medium- and heavy-duty truck strategy his administration said could reduce climate emissions from this sector at least 45% by 2050.
Gov. Polis is right: Colorado's Clean Truck Strategy would build upon the state's "national-leading climate and infrastructure goals." But key pieces necessary to achieve that ambition have already stalled. Three state agencies (Colorado Energy Office, Department of Transportation, Air Pollution Control Division) want to push adoption of the Advanced Clean Trucks rule and the Heavy-Duty Omnibus (low NOx) rule — key policy drivers for this transition — to next year.
In response, EDF and a host of other environmental groups, environmental justice advocates and local governments filed a petition with the state's Air Quality Control Commission to move forward with the ACT and low NOx rulemaking and adopt these regulations this year, rather than delay to 2023, and AQCC agreed to hear the petition on April 21.
In short, the AQCC should work with the Polis administration to move forward with adopting the ACT and low NOx rulemaking by the end of the year.