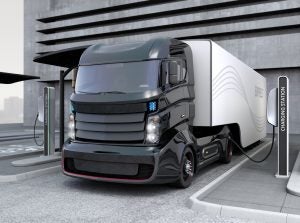 On the heels of COP26, Governor Hochul has made it clear that New Yorkers must work together to tackle climate change in the state. And New York is taking steps to prioritize climate and clean air. Back in September, the Department of Environmental Conservation introduced the Advanced Clean Trucks rule, which requires manufacturers to produce and sell a percentage of new electric trucks annually through 2035.  Since the process began, there has been a 60-day public comment period, during which Environmental Defense Fund provided testimony at a public hearing and submitted joint comments with key stakeholders.
The ACT is a critical first step toward eliminating tailpipe emissions from new trucks and making the air cleaner and more breathable in neighborhoods across the state. But it is not — nor should it be — the sole means to mobilize the market for zero-emission medium- and heavy-duty vehicles and reduce pollution.  A variety of complementary policies must be put in place to allow for a cost-effective, equitable and sustainable transition to clean vehicles.
New York needs zero-emission trucks
Transportation is a leading source of air pollution in New York, accounting for 36% of all greenhouse gas emissions across the state. And while trucks only make up 5% of the state's 10.6 million registered vehicles, the emissions produced from this sector are disproportionate to the population.
The ACT is more than good transportation policy
Transitioning trucks from diesel engines to electric motors is one of the most powerful opportunities New York has to reduce climate pollution, spark economic growth and improve equity and public health. To achieve that end, the state should move as quickly as possible to adopt the ACT before the end of this year to avoid delays in implementation that would prevent New York from harnessing key health and environmental benefits.
Exposure to air pollution has been associated with asthma and an increased risk of death due to Covid-19, especially for those residents nearest major roadways, warehouse distribution centers and other pollution hotspots and major urban areas. According to the American Lung Association, a widespread move to medium- and heavy-duty and light-duty zero-emission vehicles would prevent 351 premature deaths, over 5,000 asthma attacks and nearly 25,000 lost days of work in 2050 in New York, which translates to over $4 billion in public health benefits. In addition, the medium- and heavy-duty vehicles sector – which already employs nearly 6,000 New Yorkers – is expected to hire more residents as the state transitions to zero-emission trucks.
The importance of ensuring this transition prioritizes communities most impacted by harmful air pollution cannot be overstated. Indeed, emissions disproportionately affect low-income and communities of color, as they are more likely to live near freight corridors, warehouses and distribution centers, and ports where they are exposed to higher levels of pollution. So, it is particularly important to ensure the transition to zero-emission trucks is facilitated in an equitable way — prioritizing the transition in low-income and environmental justice communities that are at higher risk of asthma and premature death.
New York has made important strides to curb pollution and safeguard climate, health and equity benefits for all its residents. The state outlines some of the ambitious greenhouse gas reduction goals in the U.S. in its Climate Leadership and Community Protection Act, and dedicated Volkswagen mitigation funds to electrify the transportation sector. Last year, New York joined 14 other states and the District of Columbia to advance the market for zero-emission medium- and heavy-duty vehicles and which commits the state to a goal of 100% zero-emission truck and bus sales.
Other policies must accompany the ACT for better, long-term results
The ACT will help achieve the targets New York set in the CLCPA and provide much needed policy certainty to market participants concerned about a transition to zero-emission vehicles without a clear pathway to make the transition. But it cannot do this by itself. By adopting the ACT alongside other policies, such as the Heavy-Duty Omnibus rule and the Advanced Clean Fleets rule, New York can reduce energy consumption and emissions from the transportation sector, decarbonize and modernize the state's energy system, and bring good-paying jobs to the state.