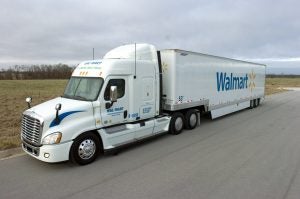 As part of its ambitious goal announced yesterday to achieve zero-carbon operations by 2040, Walmart outlined a notable timeframe for transforming its truck fleet. The company will accelerate efforts to pilot zero-emission trucks over the next few years and then aggressively ramp up its use of these vehicles, in order to achieve a full fleet transition by 2040.
Its embrace of zero-emission trucks is significant because large trucks are a major source of air pollution that harms our health and warms the climate. Tackling pollution from trucks is one of the single most important actions we can take to address climate change and provide healthier and longer lives for millions affected by toxic air pollution. This is especially true for overburdened communities and communities of color, which often border major highways and freight hubs, where diesel pollution from trucks is most acute.
This action by Walmart — as one of the largest heavy-duty truck fleets in the U.S. — sends a critical signal to the industry that the future is zero-emission. With this commitment, Walmart joins with Daimler — the leading manufacturer of freight trucks in the U.S. — in adopting a 2040 timeframe for transitioning its long-haul freight trucks to zero-emission. These trucks use the most fuel and travel the most miles of any truck segment.
Why Walmart's commitment is ambitious
Long-haul freight trucks, like the ones in Walmart's fleet, typically travel 400 miles or more a day delivering goods to thousands of locations across the country. And because of their unpredictable routes, long mileage and heavy loads, these trucks are considered to be one of the hardest vehicle types to electrify.
Walmart commits to 100% zero-emission trucks by 2040, signaling electric is the future
Click To Tweet
Researchers at Bloomberg New Energy Finance predict that while 81 percent of transit buses will be electric by 2040, just 19 percent of heavy-duty trucks will be electrified in the same time frame. While many manufactures are developing and deploying freight trucks today, the models available are aimed for regional operations of around 200 miles a day.
Significant work remains to develop zero-emission trucks capable of meeting this demanding duty cycle, and a charging infrastructure to keep it running. Walmart will have a critical role in piloting new trucks and equipment over the next decade in order to meet these challenges. While this work is ongoing, Walmart and other companies can also take immediate steps to advance near-term deployment of zero-emission vehicles.
Opportunities to electrify today
Yard trucks are a solid starting point and a place where Walmart is already running pilots. These vehicles work within the confines of a distribution facility, positioning trailers for loading and delivery, making them prime candidates for electrification. Several manufacturers are making electric yard trucks today. Running electric yard trucks reduces local pollution, can have lower total ownership costs, and enable companies to learn how to operate and optimize fleet charging equipment.
Drayage trucks are another near-term opportunity. Walmart and other large cargo owners, including Target, Amazon and Nike, are the largest customers of drayage fleets that move cargo out of ports. This market segment is well-suited for electrification and a leading source of toxic pollution in many communities. Walmart and others could collaborate with their drayage providers to identify routes that are good near-term fits with zero-emission vehicles, as well as to develop the charging infrastructure needed to support drayage delivery by EVs.
Delivery trucks are a third option for electrifying today. There are a number of EV vehicle models that are coming online in this space. Walmart and other retailers can work with their parcel companies, such as FedEx, UPS and others to drive near-term adoption of EVs. Where Walmart operates medium-duty trucks, these are a natural place for it to start to drive electrification directly into its fleet.
These actions will benefit Walmart — and other companies' — long-term ambitions. By increasing production capacity and product quality in ways that drive down costs, increase range and improve freight payload, Walmart will also help drive forward the development of electric trucks. The public policies on fleet charging, vehicle incentives and other areas that first support a move to zero-emission drayage would serve as models for effective policies that advance electrification for longer-haul trucks. The end result is that these companies will be better prepared to quickly optimize the use of electric trucks within their own operations.
As Walmart's announcement yesterday makes clear, the future of fleets is zero-emission. Electric and fuel-cell vehicles have made tremendous strides over the past few years. Manufacturers are investing billions to further develop these solutions. Policymakers are advancing regulations and programs to accelerate the pace of adoption of these vehicles. Significant work remains though, to achieve this future. We applaud Walmart's ambition and look forward to partnering with them to achieve this ambitious transition.