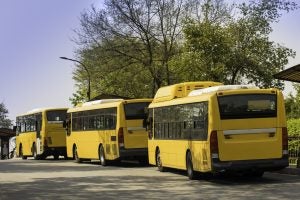 UPDATE January 14, 2020: Yesterday, the New Jersey legislature passed a bill to create a statewide electric vehicle program, ultimately aiming for 85% of all vehicles sold to be electric by 2040.
The bill is designed to stimulate electric vehicle sales with a $30 million incentive program that offers up to $5,000 in rebates per eligible vehicle over 10 years, and sets targets for building charging infrastructure. While the bill focuses primarily on passenger vehicles, it also requires the NJ Transit to purchase an all zero-emission bus fleet by 2032 and asks that the state develop a plan for electrifying medium and heavy-duty vehicles by the end of 2020. New Jersey Gov. Phil Murphy is expected to sign this bill into law by the end of January.
With 40% of statewide emissions coming from transportation, this is a tremendous step forward for New Jersey — one that will reduce the Garden State's reliance on fossil fuels, cut pollution and clean up the air.
There is no summer slowdown for New Jersey. State lawmakers are working hard to meet the state's clean energy goals. Shortly before releasing the state's Draft Energy Master Plan, Gov. Phil Murphy introduced the New Jersey Partnership to Plug-In, a first-of-its-kind collaboration between the Board of Public Utilities, the Department of Environmental Protection (DEP) and the Economic Development Authority to build the necessary infrastructure to support electric vehicle ownership statewide, cut pollution and clean up the air.
As one of five states in the U.S. requiring 50% of its power be sourced from renewables by 2030 and to reach 100% clean energy by 2050, New Jersey is moving on a path toward decarbonization, reducing its reliance on fossil fuels, to meet its aggressive climate goals, and to contribute to the nationwide – if not global – task of avoiding the worst consequences of climate change. But decarbonizing the power sector isn't enough.
Transforming the transportation system, the most polluting sector in the state that accounts for 46% of New Jersey's net greenhouse gas emissions, must remain a central priority in New Jersey's pursuit to improve the health and wellbeing of its residents. Electrifying both light duty and medium and heavy duty fleets is and will be key in this effort.
Transforming transportation in New Jersey
Click To Tweet
Even before the Partnership to Plug-In was announced, the state had already committed to doubling the number of places where people can recharge their cars. But electrifying light duty vehicles is not enough. Heavy-duty vehicles are the fastest growing source of greenhouse gas emissions in the world. Globally, emissions from these vehicles are expected to double in the next 30 years, as expanding economies increasingly rely on shipping and delivery. With a quarter of its greenhouse gas emissions brought on by these vehicles, New Jersey must find a way to curb pollution from this sector.
Among the key transportation strategies outlined in the Draft Energy Master Plan, the importance of electrifying medium and heavy duty vehicles is well highlighted. The plan includes a call for financial and other incentives to bring down vehicle purchase price and expand the charging infrastructure necessary to ensure a strong market for these vehicles. Recently the New Jersey Department of Environmental Protection announced a $16 million investment plan that begins to electrify a number of heavy-duty vehicles including garbage trucks in Jersey City and Elizabeth, school buses in Trenton, Ikea delivery trucks and other port-related vehicles – its second round of projects selected for funding under the Volkswagen settlement agreement. This is a significant step forward for New Jersey and toward meeting Governor Murphy's commitment to clean air and climate stability.
We hope the deployment of these electric heavy duty vehicles will help establish and speed market development in the sector resulting in more electric vehicle adoption, emissions reductions and healthier air for all.