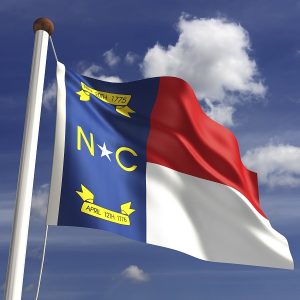 By Keith Zukowski, Communications Project Manager
If you've been focused on recent reports of climate disaster, or on the Trump administration's relentless attacks against environmental safeguards and climate science, you're probably worrying we're not making progress – at all.
But look a little closer, right here in the United States, and you'll see that people aren't waiting around. Instead of giving in to a warmer, more chaotic world, states across the country have stepped up, and into, the vacuum left by the federal government.
They're implementing creative, innovative solutions that tackle climate change while prioritizing people, our economy and the environment. While federal policies will ultimately be necessary to fully take on climate change, these states are proving that action is both doable and good for the economy.
Virginia prepares to join carbon market
A recent announcement by the Virginia Air Pollution Control Board set the commonwealth on a path to reduce carbon pollution from the power sector by more than 30 percent by 2030. Once approved, the move would link Virginia to nine other states in the Regional Greenhouse Gas Initiative, a market-based program to limit power sector emissions across the Northeast and Mid-Atlantic.
Virginia would become the largest-emitting state in the program and the first new participant, adding a critical member to a network dedicated to getting climate warming emissions out of our air.
North Carolina governor seeks 40% carbon cut
As North Carolina continues to recover from Hurricane Florence, Gov. Roy Cooper is wasting no time working to reduce the risks of climate change. A new executive order takes aim at greenhouse gas emissions, seeking to cut them by 40 percent from 2005 levels, while initiating action to bolster electric vehicle sales and improve the resiliency of communities.
The order directs state agencies to identify strategies for fostering renewable energy development and putting the state on a path toward 80,000 zero-emission vehicles by 2025. In Cooper's own words, "A strong clean energy economy combats climate change while creating good jobs and a healthy environment."
These red and blue states are tackling climate change since Trump won't
Click To Tweet
Colorado doubles down on clean cars
The Trump administration has attacked standards that reduce pollution from cars and light trucks, and also improve vehicle efficiency. Colorado, meanwhile, doubled down on efforts to get cleaner cars on the road.
Gov. John Hickenlooper issued an executive order that required Colorado's Department of Public Health and Environment to develop a regulation to establish stronger standards for vehicle emissions, taking its cues from a successful model that has reduced pollution in the 13 states that have adopted the program so far.
California issues sweeping plan to cut methane
The California Public Utilities Commission recently approved a sweeping new plan that fundamentally changes how utility companies deal with methane leaks from their pipelines. Now, utilities must repair the gas leaks that contribute to climate change even if they don't pose an immediate safety risk.
This action sends a powerful climate message: Reducing all types of gas leaks is crucial. The plan is expected to cut 40 percent of the state's utility methane emissions by 2030 – a significant step forward in California's quest to make its energy system carbon neutral.
New Jersey races toward 100% renewables
After signing a Clean Energy Act into law, Gov. Phil Murphy introduced a new economic plan that highlights clean energy as key to cutting pollution and spurring the state's economy.
Murphy's roadmap calls for New Jersey to draw 100 percent of its energy from clean sources by 2050, with half of that goal to be reached by 2030. The announcement came on the heels of a vote that will welcome proposals for offshore wind projects of 1,100 megawatts, the largest solicitation of offshore capacity in the U.S. to date.
And then there is…
These states are showing how America can continue to make significant progress while we continue to defend sound and science-based federal policies.