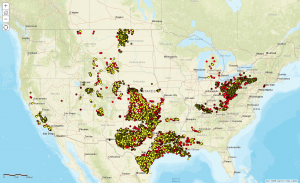 This blog was co-authored by Rosalie Winn
EPA Administrator Scott Pruitt did not waste any time after being confirmed to start attacking EPA's oil and gas methane pollution rules. However, in the 14 months since lodging his first assault, a lot has changed, and the case for keeping the standards robust and intact is stronger than ever.
The White House recently laid out their upcoming plans for agency action and they include (as expected) a proposal to weaken key parts of EPA's Clean Air Act rule that sets methane pollution limits for new and modified oil and gas operations ("New Source Performance Standards" or "NSPS"), including relaxing leak detection and repair requirements and creating other loopholes.
There are many reasons why efforts to weaken the rules would be misguided. Here are just a few:
Efforts to weaken these rules do not match the facts on the ground
These companies have been required to comply with the NSPS for nearly a year, so in essence, the best practices found in the NSPS have become standard operating practice.
Last year EPA proposed suspending the NSPS, but in the end declined to move ahead with that plan. These rules are the law, and there is no reason to change course now.
The rule is already delivering benefits to American communities
EPA itself projects that the rule will reduce methane pollution by 300,000 short tons per year, reduce smog-forming pollutants by 150,000 short tons per year, and toxic pollutants by 1,900 short tons per year, by 2020, with further reductions by 2025.
EPA has an obligation to protect the more than 12 million Americans living adjacent to and downwind of oil and gas operations. Loosening the requirements for how companies look for methane leaks, which can spring up anytime, anywhere, translates into more smog, more asthma attacks and more cancer for families on the front lines of the country's oil and gas boom.
Industry is moving forward
As public awareness and scrutiny of the oil and gas industry's methane problem has increased, some of the largest operators have acknowledged that responding to this problem is in their best interests.
This includes ExxonMobil subsidiary XTO announcing a leak detection and repair program on all its wells, not just the newly built or modified facilities covered by this rule; ExxonMobil and BP setting methane targets for their operations worldwide; and other international oil and gas companies like Shell and Equinor (formerly Statoil) adopting principles to reduce methane.
States are moving forward
State action to address this problem also has continued, especially in light of EPA's slow progress. Colorado paved the way when it finalized the nation's first methane rules for the oil and gas industry in 2014, and has continued to move forward. Since those rules were first established, there has been a steady uptick in state regulatory and legislative activity to address pollution from oil and gas operations—from California to Pennsylvania and Ohio, demonstrating that cutting pollution is both necessary and achievable.
Cutting methane is (still) cost-effective
While some lagging companies like to use scare tactics, the truth is that NSPS requirements like rigorous leak detection and repair and requiring the use of lower emitting valves represent just a small fraction of oil and gas revenues—and companies actually make money by selling recovered gas.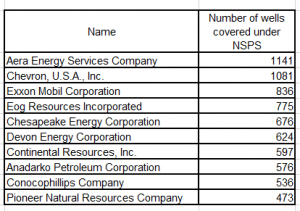 Reducing the waste of natural gas is common sense. With the oil and gas industry seeing surging profits, this is not the time to let them off the hook for compliance with a pollution rule that costs pennies on the dollar.
There's no alternative to uniform standards
Looking at the major owners of wells covered by the NSPS, only one company—ExxonMobil—has formally announced a corporate commitment to reduce methane pollution across their operations. Many companies have shown they will only do the bare minimum. When it comes to reducing pollution to ensure Americans get the protections that they deserve, we need nationwide standards.
The American people cannot afford loopholes for Trump and Pruitt's oil and gas lobbyist friends. Rolling back pollution standards to appease the laggards in the industry does not align with the spirit or intent of the pollution provisions in the Clean Air Act.
Soon, we'll have a chance to tell Acting Administrator Wheeler to do his job and keep pollution protections in place. An overwhelming majority of Americans support the methane rules currently in force and reject Trump's reckless rollback agenda.
[Tweet "Six reasons the Trump EPA's next move on oil and gas pollution standards is unnecessary and unwise"]
Editor's note: This post was updated following Scott Pruitt resignation on July 5, 2018. All indications are that Trump's EPA is moving forward with this proposal.