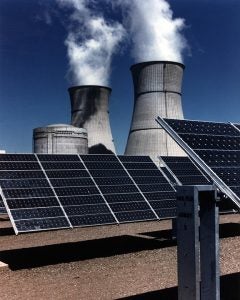 Today's American nuclear power industry is in a state of upheaval. Four new, large-scale nuclear power plants are under construction in the United States, helped by large federal subsidies. All are being built by Westinghouse, and all have faced massive cost overruns and delays. Westinghouse's parent company, Toshiba, recently posted a $6 billion loss due to Westinghouse's nuclear woes. (For context, that loss is half a billion more than Toshiba spent to buy Westinghouse a decade ago.) Westinghouse filed for bankruptcy protection on March 29.
Westinghouse's bankruptcy shines a spotlight on nuclear power's role as an electricity source – currently providing about 17 percent of our electricity in the U.S. – and raises issues concerning whether we can count on low-carbon electricity from nuclear power. The Energy Information Administration projects nuclear power's share of electricity generation will decline slightly through 2040, but these projections don't reflect current trends.
Existing plants face challenging economics
Nuclear plants have long been very expensive to build, and the continued low price of natural gas has only increased cost pressure. Many nuclear plants are losing money, leading utilities to consider retiring them. Total nuclear capacity is declining, and will continue to decline in the near future as plant retirements exceed the capacity of Westinghouse's Vogtle and Summer plants, expected to come online in 2019-2020.
In states with retail competition (like New York, Illinois, and Ohio), nuclear plants compete against all other plants in regional auctions, which select power from the lowest-cost options. In recent years, lower-cost natural gas and renewable plants have sometimes displaced nuclear plants from the auction process. Nuclear plants were designed to run 24-7, so the plants cannot recover their costs when they're unable to compete in the auctions. This leads to plant retirements and has led some utilities to seek subsidies to keep their plants afloat.
[Tweet "Why We Still Need America's Nuclear Power Plants — At Least for Now"]
Zero-emission credits
Some states have developed "zero-emission credit" (ZEC) programs to subsidize nuclear plants that can't compete on price. These programs pay a credit for power generated by nuclear reactors, based on the  social cost of carbon, a calculation of the cost to society of each ton of carbon emitted from fossil fuel plants. As part of larger initiatives that advance energy efficiency and renewables, New York was the first state to adopt such a program in August 2016, followed by Illinois in December 2016. Pennsylvania, Ohio, Connecticut and New Jersey are deciding whether to adopt a ZEC program. One consequence of President Trump's plans to roll back protections against carbon emissions is to undercut the application of the social cost of carbon.
Certainly, ZEC programs benefit the nuclear companies. But if they are designed and implemented right, they can yield significant long-term environmental benefits. For example, ZEC programs in New York and Illinois prolonged the lives of nuclear plants, avoiding higher levels of carbon emissions from the natural gas plants that would have replaced them.
While EDF has opposed direct subsidies to utilities for nuclear plants, we supported the Future Energy Jobs Act in Illinois, which included a ZEC program.  ZEC programs need to be strategic and beneficial to more than the nuclear companies. For example, to work well, a ZEC program should:
Be limited to states with competitive electricity markets – Traditional, vertically-integrated utilities can already recover nuclear costs from ratepayers;
Be limited in duration – Market conditions and available technology for replacing nuclear plants could change in a few years (such as the deployment of small nuclear plants), eliminating the need for subsidies; and
Be holistic – Long-term carbon reduction must be a core strategy of ZEC programs. As such, a comprehensive ZEC approach should include grid modernization, energy efficiency, and peak demand reduction.
Future power sources
During the next 20 years, nuclear power will produce less of our electricity, while natural gas and renewables will produce a greater share.
The drivers for this trend are the low cost of natural gas and the steadily declining costs for renewables, coupled with federal and state policies that support renewables. Technology is a factor, too. The grid will integrate higher levels of renewables as more utilities modernize their grids. Grid modernization is important because it allows utilities to monitor and regulate the power flows on the grid from greater numbers of distributed energy resources, such as rooftop solar, energy efficiency, batteries, and electric vehicles.
When a nuclear plant is retired today, there is a greater chance the plant will be replaced by a natural gas plant than a renewable energy plant. This might change in the future as the cost of renewables continues to decline, with more grid modernization and improved capability to integrate renewables. ZEC programs can postpone the retirement date for some nuclear plants, until a time when the retiring nuclear plant might be more likely to be replaced by a renewable energy plant than a natural gas plant. Energy efficiency should also be part of the discussion, because it is the lowest-cost option (you don't pay for energy you don't use).
In sum, we may see more ZEC programs over the next few years and, as long as they are designed properly, this will be a prudent step and good for the environment.