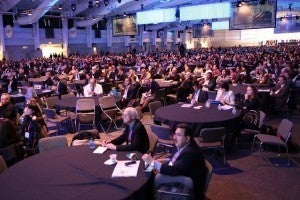 Each month, the Energy Exchange rounds up a list of top clean energy conferences around the country. Our list includes conferences at which experts from the EDF Clean Energy Program will be speaking, plus additional events that we think our readers may benefit from marking on their calendars.
Top clean energy conferences featuring EDF experts in June:
June 19-21:  Citizens' Climate Conference & Lobby Day (Washington, D.C.)
Speaker: Michael Panfil, Director of Federal Energy Policy and Senior Attorney
Citizens' Climate Lobby is a non-profit, non-partisan, grassroots advocacy organization focused on national policies to address climate change. Attendees will hear speakers and receive training to speak on this issue on behalf of future generations. The conference's keynote speaker is Dr. Michael Mann, Distinguished Professor of Atmospheric Science at Penn State University and director of the Penn State Earth System Science Center. In 1998, it was his research – conducted with Raymond Bradley and Malcolm Hughes – that led to the famous "hockey stick" graph that shows the alarming rise in average global temperatures during the 20th Century.