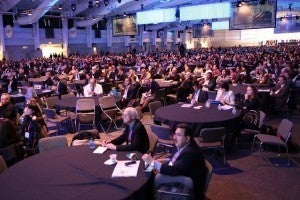 Each month, the Energy Exchange rounds up a list of top clean energy conferences around the country. Our list includes conferences at which experts from the EDF Clean Energy Program will be speaking, plus additional events that we think our readers may benefit from marking on their calendars.
Top clean energy conferences featuring EDF experts in June:
June 19-21:  Citizens' Climate Conference & Lobby Day (Washington, D.C.)
Speaker: Michael Panfil, Director of Federal Energy Policy and Senior Attorney
Citizens' Climate Lobby is a non-profit, non-partisan, grassroots advocacy organization focused on national policies to address climate change. Attendees will hear speakers and receive training to speak on this issue on behalf of future generations. The conference's keynote speaker is Dr. Michael Mann, Distinguished Professor of Atmospheric Science at Penn State University and director of the Penn State Earth System Science Center. In 1998, it was his research – conducted with Raymond Bradley and Malcolm Hughes – that led to the famous "hockey stick" graph that shows the alarming rise in average global temperatures during the 20th Century.
Other top clean energy conferences across the U.S. in June:
June 3: Silicon Valley Energy Summit (Stanford, CA)
The Silicon Valley Energy Summit provides workable ideas by exploring best practices and insights about upcoming energy technologies, markets, and policies. Panel topics include the following: Exploiting New Tools for Energy Efficiency Post-Paris; How Smart Factories Optimize Energy Use and Improve Productivity; People Power: Silicon Valley Creates Community Electricity Provider; and Digital Cities: Biggest Energy & Resource Opportunity.
June 8-10: ModernSolutions Power Systems Conference (Chicago, IL)
Today, aging assets, supply chain security, emerging technologies, and regulation create new challenges for power systems worldwide. This conference, sponsored by Schweitzer Engineering Laboratories, Inc., fosters multidisciplinary discussion and knowledge sharing in the interest of rethinking possibilities for modern power systems and discovering new opportunities for the next 100 years. Sessions include the following: How Can Intermittent Sources Truly Succeed?; Decentralizing Control, Islanding and Microgrids; and Power System Controls of the Future.
[Tweet "Top Clean Energy Conferences of June 2016"]
June 21-23: Grid Edge World Forum (San Jose, CA)
Conference participants will discuss and debate the latest issues and opportunities impacting tomorrow's distributed energy system, and examine the trends and innovation happening at the grid edge. The 3-day conference features business networking opportunities and dedicated exhibition time to experience the latest innovations at the grid edge. Hear from the industry experts shaping the next generation electricity system with keynotes, fireside chats, and deep-dive knowledge sessions. Compare different perspectives from utilities and regulators from around the globe in dedicated regional spotlights.
June 21-23: VERGE Hawaii 2016: Asia Pacific Clean Energy Summit (Honolulu, HI)
The Hawaii State Energy Office, partnering with GreenBiz Group, host this conference to explore innovative clean energy policies, models, technologies and infrastructure. The conference intends to set the stage for immediate actions and plans needed to deliver on Hawaii's goal of 100 percent renewably-powered energy in the electricity sector by 2045. The event also serves as a platform for Hawaii's energy leaders and stakeholders to engage, learn, and contribute.
June 28-29: 2016 Renewable Energy Conference (Poughkeepsie, NY)
New York State and the Nation continue to be dramatically impacted by changes in energy policy. As a result of the Public Service Commission's Reforming the Energy Vision (REV) and the rollout of Federal Energy Regulatory Commission Order 1000, the energy landscape is changing. The conference will examine the impact of these policy changes on the competitive bulk electric market place with associated impacts on the use, development, and pricing of renewable sources. Morning sessions are devoted to establishing a foundation for understanding the current status of the energy market place. Afternoon sessions will focus on the practical experiences of professionals working in these emerging energy markets, and there will be opportunities for networking.
Photo source: Flickr/National Retail Federation