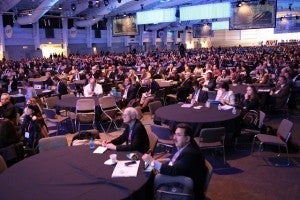 Each month, the Energy Exchange rounds up a list of top clean energy conferences around the country. Our list includes conferences at which experts from the EDF Clean Energy Program will be speaking, plus additional events that we think our readers may benefit from marking on their calendars.
Top clean energy conferences featuring EDF experts in March:
March 9: Clean Power Plan or What Next? Symposium & Workshop (Houston, TX)
Speaker: John Hall, Texas State Director, Clean Energy
Join a group of high level executives for a discussion on the issues arising from the U.S. Environmental Protection Agency's proposed Clean Power Plan and its regional impact.
March 16-17: California's Distributed Energy Future 2016  (San Francisco, CA)
Speaker: Jamie Fine, Senior Economist, U.S. Climate and Energy
As distributed energy gains steam in California, state regulators, policymakers, utilities, and distributed energy resource providers are shaping the rules, regulations, and markets that will ensure the transition is speedy and smooth. Greentech Media is partnering with More Than Smart to host actionable conversations on the future of electricity in an innovative state.
March 16: 2016 Building Energy Summit® (Washington, DC)
Speaker: Ellen Bell, Manager, Midwest Clean Energy
Building owners, energy experts, and technology pioneers will come together at the Ronald Reagan Building in Washington, DC to address the business and social drivers for more energy efficient buildings. Ellen will participate in a discussion on how to analyze portfolio data for energy saving opportunities, how to prioritize initiatives based on payback, and how to align your efforts with a corporate environmental policy.

Other top clean energy conferences across the U.S. in March:

March 14: The Wall Street Green Trading Summit (New York, NY)

Launched in 2002 by Peter Fusaro, the founder and chairman of Global Change Associates Inc., the Wall Street Green Summit covers the emergence of the "Impact Economy," where main street investors team up with corporations, entrepreneurs, and government to solve environmental and social problems while generating financial returns. The 2016 Wall Street Green Summit XV is the "one-stop shop" to come up to speed on the latest developments in green finance.

[Tweet "The Top 6 clean energy conferences of March 2016"]

March 15-17: 4th Microgrid & Distributed Energy Development (Philadelphia, PA)

Learn what communities throughout the country can achieve in addressing climate change and scalable alternative energy and efficiency strategies at the Philadelphia Navy Yard Microgrid, which is one of the region's greatest economic development successes as a national example of a modern, progressive and sustainable urban campus. The country's first self-contained navy installation is home to more than 150 businesses and three navy activities, and more than 12,000 employees. This electric grid is one of the largest non-military unregulated grids in the eastern United States. The Navy Yard's senior energy team will guide a pre-conference behind-the-scenes tour on March 15.

March 29-31: Energy Thought Summit (Austin, TX)

Born in Austin, Texas, Energy Thought Summit events aim to bring the world's thought leaders together to debate the state and future of energy, with smart dialogue and an engaging setting, on- and offline.

Photo source: Flickr/National Retail Federation