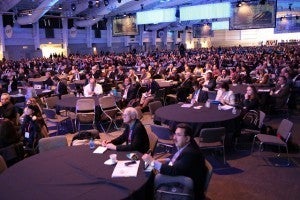 Each month, the Energy Exchange rounds up a list of top clean energy conferences around the country. Our list includes conferences at which experts from the EDF Clean Energy Program will be speaking, plus additional events that we think our readers may benefit from marking on their calendars.
Top clean energy conferences featuring EDF experts in November:
November 3-5: European Utility Week  (Vienna, Austria)
Speaker: Kate Zerrenner, Manager
With two programs—the Strategic Conference Program and the free-to-attend Hub Sessions on the exhibition floor—as well as a multitude of new exhibition features, the event is a dynamic environment for the smart energy community to come together and thrash out which strategies will be the most effective or most affordable in the future.
November 6-7: Yale Environmental Sustainability Summit (New Haven, CT)
Speaker: Fred Krupp, President
How will our planet provide food, energy, and water for a growing population and as our climate changes? Can we develop more sustainable systems for producing and distributing food; drive towards lower carbon and GHG intensity in our economies; and effectively manage our increasingly scarce fresh water supplies and fragile ecosystems? How can efficiency and innovation help reduce our impact—while increasing our well-being?  The Yale Environmental Sustainability Summit (YESS) will engage University alumni, faculty, staff, and students—as well as outside experts, practitioners, and scholars—to tackle topics, including these, in the first annual conference of its kind at Yale. Fred is scheduled to deliver remarks during the conference dinner on Friday, Nov. 6.
November 18-20: Greenbuild International Conference & Expo (Washington, DC)
Speaker: Matt Golden, Senior Energy Finance Consultant
Featuring three days of speakers, networking opportunities, showcases, LEED workshops, and tours of green buildings, Greenbuild offers a place for thousands to gather and renew their commitment to the green movement.
Other top clean energy conferences across the U.S. in November:
November 5-6: Columbia University Energy Symposium (New York, NY)
The Columbia Energy Symposium is the largest student-run energy event in New York City, bringing together more than 400 students, faculty, leaders, and executives representing industry, government, and society, to explore and advance our insights into today's challenging energy questions. Key topics for discussion will include uncertain commodity price environments, adoption of emerging energy technologies, financial solutions, and reducing climate impacts.
November 5-7: Net Impact Conference (Seattle, WA)
The 23rd Net Impact Conference is where student and professional leaders will come together to tackle the world's toughest social and environmental problems. The challenges we face are complex, and conference attendees can come together and create innovative solutions.
[Tweet "Top 7 #cleanenergy conferences of November 2015. @NetImpact, @EUW_live, @Greenbuild"]
November 8-11: NARUC 127th Annual Meeting (Austin, TX)
Members of the National Association of Regulatory Utility Commissioners gather for one of three yearly conferences to set policy, share best practices, and discuss crucial industry issues.
November 17-18: Utilities in a Time of Change and Challenge  (Scottsdale, AZ)
Energy publisher Public Utilities Fortnightly and PBS TV producer and columnist Llewellyn King team up to host this conference. Rooftop solar, energy storage, EV's, and microgrids are disrupting the traditional utility business. Together they're making up much of the "distributed generation" market, where customers are generating electricity on site—a phenomenon that's challenging the reliability of the central grid, and how those wires will be maintained and paid for. The conference focuses on providing need-to-know information from industry thought leaders. Scheduled speakers include CEOs, government officials, regulators, think tank scholars, leading consultants, and futurists.
 Photo source: Flickr/National Retail Federation