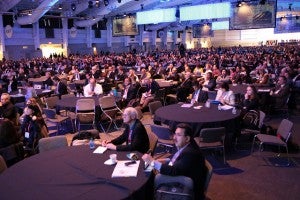 Each month, the Energy Exchange rounds up a list of top clean energy conferences around the country. Our list includes conferences at which experts from the EDF Clean Energy Program will be speaking, plus additional events that we think our readers may benefit from marking on their calendars.
August 4-6: 2015 ACEEE Summer Study on Energy Efficiency in Industry (Buffalo, NY)
This year's ACEEE Summer Study on Energy Efficiency in Industry will bring you the latest thinking on managing plant energy use, national energy policy, and industrial energy efficiency program administration. Session topics include Strategic Energy Management, Sustainability, Smart Manufacturing, Beyond Best Practices, Policy and Resource Planning, and Delivering Results.
August 12: Unlocking Renewables: Exploring the Clean Energy Potential in the San Joaquin Valley (Fresno, CA)
This summit will include discussions with industry leaders, community members, elected officials, environmental stakeholders, utilities, opinion leaders, and media in a series of clean energy workshops for residents and businesses, as well as those interested in entering the renewables workforce. EDF is a sponsor, aiming to bring more focus to the Central Valley for our clean energy work.
August 25-27: Association of Energy Services Professionals 2015 Summer Conference (Niagara Falls, Canada)
What's now and what's next in the world of energy efficiency? AESP's Summer Conference attracts the energy industry's top program managers, implementers, marketers, evaluators, consultants, and vendors from across the U.S. and Canada. Highly regarded experts will give over 20 presentations covering a range of timely topics and emerging trends in the energy industry.
August 31-September 2: 4th Annual Market Transformation Conference (Charlotte, NC)
The Energy Services Coalition (ESC)'s annual Market Transformation Conference offers invaluable networking with a multi-disciplinary assembly of private and public sector professionals all focused on expanding the energy-savings, performance-contracting market. The conference also facilitates the interaction between ESC state chapters to foster the crosspollination of ideas and help grow the overall market for the benefit of individuals, ESCOs, and state and local government. The conference agenda covers the ongoing programs and activities of ESC chapters and state energy offices nationwide, as well as related topics such as financing mechanisms, innovative projects, and new technologies.
Photo source: Flickr/National Retail Federation