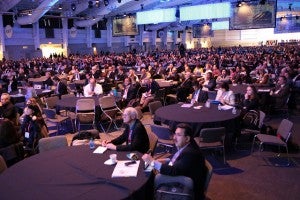 Each month, the Energy Exchange rounds up a list of top clean energy conferences around the country. Our list includes conferences at which experts from the EDF Clean Energy Program will be speaking, plus additional events that we think our readers may benefit from marking on their calendars.
Top clean energy conferences featuring EDF experts in July:
July 12-15:  NARUC Summer Committee Meetings (New York, NY)
Speaker: N. Jonathan Peress, Air Policy Director – Natural Gas
The NARUC Summer Committee Meetings are an opportunity to meet with utility regulators from every State in the U.S., along with federal and international officials. Meetings topics include the latest in regulatory trends and best practices within utility sectors, including electricity, natural gas, telecommunications, and water.
July 29-30: New York REV Summit (New York, NY)
Speaker: Jonathan Schrag, Senior Director – Clean Energy Idea Bank and Rory Christian, Director – New York Clean Energy
Infocast's NY REV Summit will discuss the REV initiative and its impact not only on the energy industry in New York, but in building large-scale utilities of the future. The NY REV Summit will examine the development of "distributed system platforms" (DSPs) and the role of utilities going forward. It will explore the promise vs. the practical development reality of microgrids and the emerging opportunities for third parties to provide grid services.
Other top clean energy conferences across the U.S. in July:
July 7-9: Climate Summit of the Americas (Toronto, Canada)
The Climate Summit of the Americas, organized by the Ontario Ministry of the Environment and Climate Change, will bring together Pan-American jurisdictions, as well as Indigenous leaders, environmental groups and industry, to work towards commitments to reducing greenhouse gas emissions and highlight opportunities for investing in a global low carbon economy.
July 15-18: The Aspen Institute Energy Policy Forum:  "Leaning Into the Energy System of the Future" (Aspen, CO)
The 2015 Energy Policy Forum will be  co-chaired by Susan Tierney, Managing Principal, Analysis Group, and Clint Vince, Energy Sector Chair, Dentons.  The format relies heavily on dialogue among experts with varied experience and perspectives.  A few brief discussion-starting presentations begin each session, with the majority of the time reserved for dialogue among the 70 or so participants  Energy Daily has called the invitation-only Forum "one of the most venerable and influential gatherings of energy cognoscenti."
July 22: Energy Thought Summit (Chicago, IL)
Energy Thought Summit (ETS) events bring together the world's thought leaders together to debate the state and future of energy — expect smart dialogue, and an engaging setting on- and offline.  This Chicago Summit will focus on four chapters: Policy, Standards, & Regulation Stewardship; Smart Cities, Internet of Things, & Smart Buildings; Innovations & Inventions; and Grids of the Future.
July 26-30: IEEE Power & Energy Society General Meeting  (Denver, CO)
Meeting theme: Powering Up the Next Generation
Photo source: Flickr/National Retail Federation