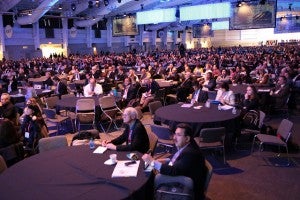 Each month, the Energy Exchange rounds up a list of top clean energy conferences around the country. Our list includes conferences at which experts from the EDF Clean Energy Program will be speaking, plus additional events that we think our readers may benefit from marking on their calendars.
Top clean energy conferences featuring EDF experts in June:
June 17: PJM Grid 20/20: Focus on Gas/Electric Interoperability (Audobon, PA)
Speaker: N. Jonathan Peress, Air Policy Director – Natural Gas
The purpose of GRID 20/20 is to provide PJM members and policy makers with cutting edge ideas, visions, and technologies that will transform electricity in the 21st century. Industry experts and regulatory officials will address key questions during remarks or as part of panel discussions. Among the questions they will explore are: Why is gas-electric interoperability so important right now? What are the challenges of building natural gas pipelines and what will future needs be?
Other top clean energy conferences across the U.S. in June:
June 11: Smart Grid Customer Education Symposium (Chicago, IL)
Join us in Chicago for the fifth annual Smart Grid Customer Education Symposium, the premier industry event focused on best practices in smart grid education and engagement. This year's event will be hosted by ComEd, a unit of Exelon Corporation. From education design to measuring behavior change, this annual event covers all aspects of the smart grid customer experience. Spend the day with utility executives from across North America as they speak openly about what has been most effective as they have rolled out smart meters and smart grid related programs.
June 15-16: 2015 EIA Energy Conference (Washington, D.C.)
The U.S. Energy Information Administration (EIA) will hold its 2015 EIA Energy Conference, which has become a premier forum for addressing energy issues in the United States and worldwide. This event provides a unique opportunity to meet and network with fellow energy experts and decision makers. Last year more than 900 thought leaders from industry, government, and academia attended the 2014 EIA Energy Conference. Participants discussed current and future challenges facing domestic and international energy markets and policymakers.
June 23-25: Greentech Media's Grid Edge Live 2015 (San Diego, CA)
Grid Edge Live returns bigger and better, bringing together an emerging ecosystem of power industry thought leaders including utilities, innovators, and regulatory and policy makers. The impressive two and a half day agenda addresses key issues facing utilities, technology vendors, advanced energy consumers, and regulators.
June 24-25: Renewable Energy Finance Forum (REFF) Wall Street (New York, NY)
REFF-Wall Street is the premier renewable energy financing event in the U.S. Attendees of this event include CEOs and other senior company officials, lenders, investors, investment bankers, private equity investors, venture capitalists and other top transactional professionals in renewable energy finance. The event draws an especially senior audience, comprising of over 600 senior decision makers, financiers and professionals in the renewable energy finance field.
Photo source: Flickr/National Retail Federation