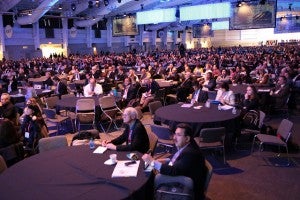 Each month, the Energy Exchange rounds up a list of top clean energy conferences around the country. Our list includes conferences at which experts from the EDF Clean Energy Program will be speaking, plus additional events that we think our readers may benefit from marking on their calendars.
Top clean energy conferences featuring EDF experts in May:
May 5: Smart Money For Sustainable Cities (New York City, NY)
Speaker: Mary Barber, New Jersey Director, Clean Energy
Learn from experts on today's leading edges of green financing, including topics such as greening municipal and corporate bonds, greening utilities, and building investor confidence. Get a jump start on the latest developments in renewable energy and efficiency projects at several scales. This event is free and open to the public.
May 12-13: 3rd Annual California Energy Summit (San Francisco, CA)
Speaker: Gavin Purchas, Director of California Clean Energy
The 3rd Annual California Energy Summit will provide the latest information on the opportunities and threats in California as policy-makers come together with utility, IPP, energy storage, and demand response executives to explore the potential opportunities to solve power supply and delivery problems. They will explore the impacts of new energy storage procurement on generation and distribution system needs, the potential opportunities for the construction of power assets, and how the revision of retail rate regulation will drastically affect the economics of solar power and utility generation in the state. Finally, financiers will provide their perspectives on the investment in and financeability of projects in the California market.
May 27-29: Texas Power Summit 2015 (Dallas, TX)
Speaker: Marita Mirzatuny, Project Manager, Clean Energy
Texas represents the single largest US power market and its generation mix will have to evolve to meet multiple EPA regulatory requirements. Developers are utilizing a wide range of Texas' natural energy endowments including wind, solar, and natural gas to generate power. Moreover, the mechanisms by which generation responds to load are evolving as major social shifts in how power is produced and sold accelerate. All this change represents a business opportunity for generation portfolio owners and developers. Cypress Conferences has organized this in-depth event to bring together the industry experts, regulatory officials, and senior executives who will be able to share their insights and knowledge into the future of Texas generation, whether nuclear, coal-fired, gas-fired, wind, solar, or storage-based.
Other top clean energy conferences across the U.S. in May:
May 12-15: 2015 Energy Efficiency Global Forum (Washington, D.C.)
 In 2007, hundreds of international leaders and delegates came together for what has become the most influential gathering of energy efficiency professionals in the world: the Energy Efficiency Global Forum (EE Global). In 2015, this exclusive forum is poised to bring its proven brand of high-level networking, partnership-building, and action-inspiring energy efficiency discourse to Capitol Hill and beyond. EE Global is an invitation-only opportunity to join hundreds of executives and policymakers from across sectors, disciplines, and borders. The energy efficiency elite will convene in Washington, D.C. for two days with a goal of integrating effective policies and business practices into actionable plans for the next generation of energy efficiency.
May 19-20: Low Carbon Energy Investor Forum 2015 (San Francisco, CA)
Low Carbon Energy Investor presents its debut senior officers' conference focusing on the institutional investors' interests in accessing a wide range of low-carbon energy investments. Join leading investors, fund managers, and senior energy executives to discuss recent deals, the market outlook, and other key subjects of debate such as how low-carbon investments fit throughout an investor's portfolio.
May 26-28: National Town Meeting on Demand Response and Smart Grid (Washington, D.C.)
The National Town Meeting on Demand Response and Smart Grid is the premier event in the U.S. focused on the business and policy aspects of demand response and its enabling technologies and applications. It is unique in that it devotes an entire day to roundtable discussions featuring experts in demand response and smart grid, who discuss with each other and with the audience the latest trends, issues, and business developments. The National Town Meeting also features panel discussions, case studies, and presentations of best practices.
May 27-29: 25th Annual Energy Storage Association Conference (Dallas, TX)
For three days in Dallas, TX, the most influential leaders and decision makers will gather with global experts to shape the future of the energy storage industry. This year's conference will bring even greater awareness of the successes of energy storage to federal policymakers and regulators, and include an in-depth look at state activities.
May 31-Jun 2: 2015 ACEEE Energy Efficiency Finance Forum (San Francisco, CA)
The American Council for an Energy-Efficient Economy (ACEEE) Energy Efficiency Finance Forum is the premier conference dedicated to catalyzing investment in, and scaling the market for, energy efficiency. Since 2007, attendees have enjoyed significant value in meeting and mingling with thought leaders and game-changing innovators from the industry at this important networking opportunity. Each year, the conference features more than 20 sessions covering cutting-edge developments in this dynamic and fast-growing space, and provides a foundation for tracking progress as energy efficiency and related socially responsible investments progress toward the mainstream.
Photo source: Flickr/National Retail Federation