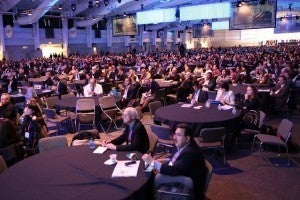 Each month, the Energy Exchange rounds up a list of top clean energy conferences around the country. Our list includes conferences at which experts from the EDF Clean Energy Program will be speaking, plus additional events that we think our readers may benefit from marking on their calendars.
Top clean energy conferences featuring EDF experts in May:
May 5:  Regional Plan Association Assembly (New York, NY)
Speaker: Rory Christian, Director, New York Clean Energy
Each year, RPA brings together more than 1,000 civic and business leaders from around the New York metropolitan area to discuss major issues affecting the prosperity and quality of life in the region. This year's assembly includes preliminary recommendations of the Fourth Regional Plan: a long-range vision for the shared prosperity of the New York, New Jersey, and Connecticut metropolitan region. It will also outline actions the region should take to ensure sustainability, good governance, and shared prosperity over the next 25 years.
May 9-11:  Better Buildings Summit (Washington, D.C.)
Speakers: Andy Darrell, Chief of Strategy, Global Energy & Finance; Matt Golden, Senior Energy Finance Consultant
The Better Buildings Summit is a national meeting where organizations across key sectors showcase solutions to cut energy intensity in their buildings portfolio-wide by 20 percent over the next 10 years. The summit is designed for partners and stakeholders to exchange best practices and highlight demonstrated market solutions with an equal emphasis on discussing future opportunities for greater energy efficiency in America's homes and buildings. Speakers from the commercial, industrial, public, multifamily, residential, and data center sectors share how they use energy efficiency technologies, business practices, and partnerships to save money on utility bills, create new jobs, and improve their organizations' competitiveness.
Other top clean energy conferences across the U.S. in May:
May 2-5: IEEE PES Transmission & Distribution Conference and Exposition (Dallas, TX)
Sessions, panel discussions, poster presentations, and tutorials bring international thought leaders together to discuss the most critical issues facing the energy industry. The discussion line-up includes international engineering and operations and equipment experts. Focused on building and optimizing a smarter, safer, and more secure power grid, more than 240,000 sq. ft. will be filled with 875 exhibitors from across the globe. Opportunities include continuing education and professional development hours.
May 10-12: Association of Energy Services Professionals Spring Conference & Expo (Philadelphia, PA)
Implementers and evaluators from diverse regions of North America will share their perspectives, experiences, best practices, and lessons learned in the rapidly-changing world of energy efficiency program implementation and evaluation. Discussions include how to integrate evaluation and implementation into the planning process for residential, small business, and large commercial and industrial programs. Unique evaluator and implementer collaborations will be highlighted.
May 11-12: Solar Summit (Scottsdale, AZ)
This conference presents networking opportunities and deep dives by solar industry executives and thought leaders that will help attendees navigate market challenges.
May 11-12: Energy Efficiency Global Forum (Washington, D.C.)Speaker: Matt Golden, EDF Senior Energy Finance Consultant
During the past nine years, this forum has earned an international following of experts and leaders who help drive the future of energy efficiency. This year, the forum will explore how utilities, regulators, legislators, and companies are incorporating cost-effective energy efficiency measures into business to help meet increasing demand. Conference opportunities include networking, partnership building, and discussion around developing sustainable and scalable energy efficiency business strategies.
May 22-24: ACEEE Energy Efficiency Finance Forum (Newport, RI)Speaker: Matt Golden, EDF Senior Energy Finance Consultant
Each year, the Finance Forum features more than 75 experts presenting on a variety of topics. This year's forum will feature success stories and presentations on topics including PACE, on-bill financing, serving low-to-moderate income households and multifamily residences, Green Banks, and international energy efficiency finance.
Photo source: Flickr/National Retail Federation