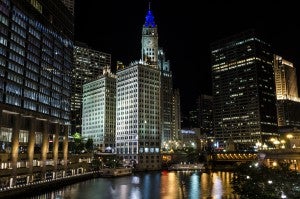 I've always been proud to be from Illinois. As a Midwestern girl who went out East for college, I spoke often about the wonders of my hometown of Chicago: from our miles of gorgeous public lakefront, to our proud history as the home of the first skyscraper. We have a scrappy side, too. As a city that rebuilt itself from scratch after the Great Chicago Fire of 1871, we've always worn the title, 'Second City' as a badge of honor (and a chip on our shoulder, when it's used as anything but a compliment).
That's why when the U.S. Green Building Council (USGBC) released its annual Top 10 States for LEED, it came as no surprise to me that Illinois topped the list for the third year in a row. The ranking evaluates states based on sustainable building design, construction, and transformation, demonstrating Illinois' progressive leadership when it comes to energy management in buildings.
Illinois has taken the lead, but property managers who haven't jumped on the energy efficiency bandwagon yet should join now – there's plenty of room. It's never too late to pursue efficiency opportunities that benefit your organization's bottom line.
LEED is a fantastic framework, but it's not the only option
A second piece of information in USGBC's announcement left me unsurprised: the top 10 states once again utilized LEED for Building Operation and Maintenance, the most out of LEED's three rating systems. Although all three provide a framework for practical and measurable green building solutions, Operation and Maintenance focuses on existing buildings, while the other two measure construction and design (both for building and interior).
People often only think about pursuing LEED certification for new construction projects, which is an important opportunity to maximize a building's operating efficiency from the beginning. But, as demonstrated by the report, upgrading equipment to maximize efficiency in existing properties is a lucrative avenue worth pursuing. In fact, focusing on optimizing systems in the already-built environment is quickly becoming a $20 billion business that represents both economic and environmental opportunities.
[Tweet "Illinois Leads on LEED, but Greater Energy Management Opportunity Awaits"]
And you don't need to go after anything as complex as LEED certification to follow Illinois' pioneering example – or get a share of that $20 billion. A building's energy data, available either through utilities or onsite tracking software, is often an untapped operational resource. Determining a property's standard energy use and analyzing that data can provide quick insights that lead to low-cost, or even no cost, operational fixes.
Significant value lies in energy management
The everyday responsibilities of managing a building can leave little time for energy management. But if you reframe it as financial acumen, it's worth finding the time.
According to Chicago's Building Energy Benchmarking Report, hundreds of millions of dollars of energy reduction savings are possible. That is, if reporting buildings improve their operating procedures to achieve (or surpass) the national average, as determined by the Department of Energy's Energy Star energy efficiency program.
Furthermore, utilities across the country offer incentive programs to help improve a property's energy operations, covering everything from lighting and HVAC upgrades, to energy audits. These programs help property managers get a handle on useful energy data, and often promise quick returns for recommended efficiency projects.
But as American architect and urban designer Daniel Burnham said, "Make no little plans" – and I would be remiss if I didn't point out that thinking big should always be an option, too. There's a reason over five billion square feet of commercial, neighborhood, and residential properties are LEED-certified in the United States: There is value, not to mention financing opportunities, to be found in a whole-building energy and sustainability management strategy.
For example, the Empire State Building's retrofit project focused on eight key areas that influenced energy consumption, demonstrating how energy efficiency investments can deliver benefits, like lower operating costs, increased building valuation, and lower energy usage. Taking the time to make the business case for this kind of layered, strategic, fact-based planning – which allows savings to grow and systems to function optimally – is never time wasted.
The leadership shown by Illinois' industry professionals, business leaders, and community advocates has cemented LEED's status as a transformative force in building efficiency. As our position at the top of the list demonstrates, existing efforts are carrying on the legacy of innovation and leadership, honoring the Midwestern pioneers who came before us. Pursuing new efficiency opportunities will maintain Illinois' place at the forefront of innovative building energy management – and allow us to look forward to a healthier, more sustainable future.