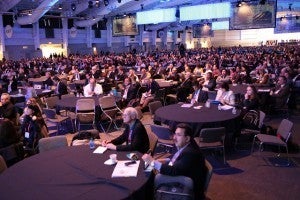 Each month, the Energy Exchange rounds up a list of top clean energy conferences around the country. Our list includes conferences at which experts from the EDF Clean Energy Program will be speaking, plus additional events that we think our readers may benefit from marking on their calendars.
Top clean energy conferences featuring EDF experts in February:
February 3-5: Energy, Utility & Environment Conference (San Diego, CA)
Speaker: John Finnigan, Lead Attorney, U.S. Climate and Energy
The 19th annual energy, utility, and environment conference will feature more than 500 presentations by experts in tracks that include battery and energy storage, climate management, smart grid and risk management, energy policy and efficiency, renewable energy, the Clean Power Plan, permits and compliance, and many more. More than 2,000 attendees will network at 8 lunches, receptions, and breaks held in a 200-business exhibit area.
February 16-19: UT Energy Week (Austin, TX)
Speaker: Jim Marston, Vice President, U.S. Climate and Energy
During this second annual event, experts in academia, industry, government, and the non-profit world will take a fresh look at some of the most vital energy issues facing society. Full-day programs include the role of natural gas and renewables in reforming the Mexican power sector (Feb. 16); energy and society (Feb. 17); utilities and the grid (Feb. 18); and challenges in the oil and gas industry (Feb. 19). Read More